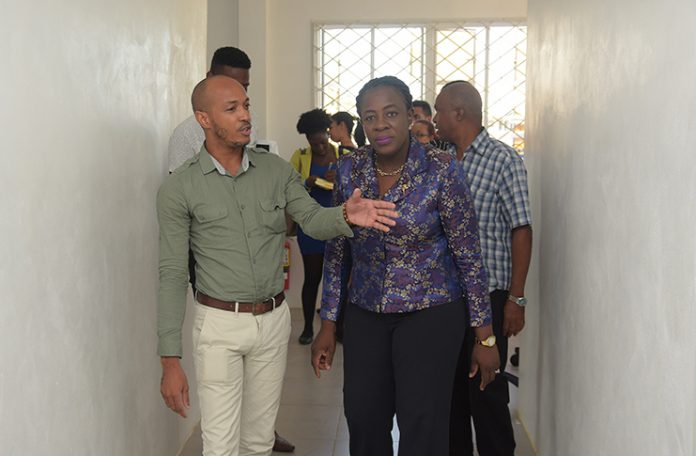 MINISTER of Education Nicolette Henry on Thursday toured the special education facility located in the compound of the Cyril Potter College of Education (CPCE) and was updated on the progress of works.
The tour was part of a follow up to another tour she had at the facility earlier this year
An initiative of the Ministry of Public Health, the Centre for Stimulation for Children, Youth and Adolescent with Special Education Needs Associated with Disabilities was commissioned in December 2017 and was handed over to the Education Ministry following the signing of a memorandum of understanding.
The facility comprises several classrooms, a physical rehabilitation room, a conference room, play area and training quarters. The CPCE was considered the most suitable location for the establishment of the facility that will train special needs educators.
The centre was created as part of a CARICOM-Cuba bilateral agreement. It currently has a staff 14 Cuban and local specialists who evaluate cases that come to the facility.
The facility deals with some five students per week, ranging in age from 3 – 18 years old. The students are usually sent from the National Centre for Education Resource Development (NCERD) Special Education Needs (SEN) programme.
Aside from evaluation and diagnostic services, other services provided include: language and occupational therapy, physical psychological treatment, prevention, rehabilitation and social integration services with a psycho pedagogical and socially inclusive approach.
The facility will foster the development of processes of prevention, diagnosis, early stimulation learning for life and social inclusion favouring access to culture, services and honourable employment.