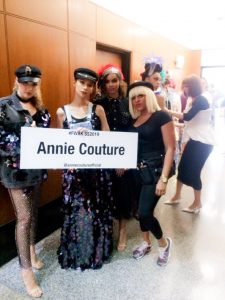 THIS past year has been nothing short of a whirlwind for local makeup artist Tristell Manifold, also known as MakeupByTrisee.
Manifold recently returned from New York where she fashioned edgy and inspired looks for Annie Couture, Anarchy People, John Ashford, among other Brooklyn-based designers as part of "Fashion Week Brooklyn."
"It was an experience that felt more like a dream than reality," explained Manifold, while adding "and while I learned several new tips and tricks from fellow artists overseas, most importantly I learned the importance of time management, as a makeup artist."
According to the entrepreneur and creative artist, the atmosphere behind the scenes of the "Fashion Week Brooklyn" felt like a mix of a medical emergency room, a carnival and a mad artist's studio. Yet it afforded her a distinct thrill to see the models walking down the runway and knowing that she perfected the makeup she applied.
"The energy in the air was palpable – with anywhere from 14 to 26 hairstylists and makeup artists each trying to wrangle models into chairs, feverishly carry out artistic directives issued by the lead makeup artist or hair artist, while precariously seeking to maintain some level of calm and an upbeat attitude," Manifold said.
The makeup artist continues to push the envelope by opening her MakeupByTrisee Studio and announcing the upcoming launch of a line of mink eyelashes all within a few short weeks of her return. "I am excited to share my affordable, stylish and glamorous 3D mink lashes. Trisee Luxury Minks, featuring four different styles, Eye Da Hoe, Viola Voss, Lulu Lease and Glamour Wispies, will hit the markets very soon," Manifold said.
Manifold began her career in the makeup arts in late 2016 after noticing an absence of quality makeup services and beauty products in Guyana. Within months of debuting MakeupByTrisee, Manifold also began to offer courses to teach clients how to apply their own makeup. "I've always wanted to be a teacher," Manifold shared. So, when the opportunity arose for her to share her skills with others, she produced a simplified makeup booklet and course outline which guides clients into creating their own natural and trendy makeup.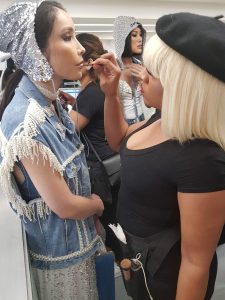 Interest in the courses quickly broadened and Manifold now offers at-home lessons in Berbice and Georgetown and is also available for bookings, where her customers can either have their makeup done in the comfort of their own homes or at her stylish studio.
As for makeup trends to watch, Manifold suggests that makeup enthusiasts try bold blue eyes, bright red lipstick, golden finishes, metallic lipsticks, halo eyebrows, and super daring lashes, "but not all at once though," Manifold joked.
To book an appointment or learn more call +592 672 9537 or visit MakeupByTrisee on Facebook and Instagram
All official photos were taken by Tariq Mohamed Proprietor of Image Ready Production, while her trip to New York was sponsored by Fly Jamaica.