– Carnegie graduates told
Graduates of the Carnegie School of Home Economics and the Craft Production and Design Division were told on Thursday that their skills and talents are needed by Guyana as it seeks to transform itself sustainably.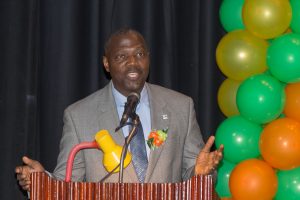 Addressing the students, Senior Pastor at the Vreed-en-Hoop Wesleyan Church, Dr. Marlon Hestick, posited: "You're not just graduating people today but you are contributing to the national resources."
The pastor explained that their qualifications do not only gain them entrance into the workforce which will contribute to economic development, but they have a fundamental role to play in Guyana's transformation, particularly in the wake of the emerging petroleum industry.
He stressed that Guyana is becoming a massive tourist destination and with persons flooding these shores because of this industry will require the students put their skills to full use.
Dr. Hestick also stated: "Our nation and the world are looking for pioneers."
Scores of students graduated from various programmes offered by the school.
These include Visual Arts, Garment Construction, Interior Decoration, Commercial Food preparation, General Cosmetology and Catering and Hospitality.
Within these areas, Cynthia Henry emerged the top student in Craft Production and Design and she copped the highest marks in Information technology (IT) and English. She was followed by Ronalda Sandy and the top performer in Mathematics and Social-Studies. Yonette Ward was the school's Most Improved student.
Dr. Hestick acknowledged that the students must have encountered several challenges as they pursued their studies and now that they have all successfully graduated, they have earned the right to celebrate.
"As you take a step in the right direction, the best thing you can do is keep graduating… celebrate your performance but do not stop graduating," he said.
He also told them to not be limited by the assessments of others, but always keep elevating themselves.
"Whatever your performance is, there is the ability in you to do much more, graduation is life-long," he said and added: "You have to learn the habit of always stepping up."
Also giving special remarks at the graduation was Minister of Education, Dr. Nicolette Henry, who also stressed the importance of the skills of the graduates in fostering Guyana's development.
She extended congratulatory remarks and encouraged them to keep aspiring to greater heights in life.