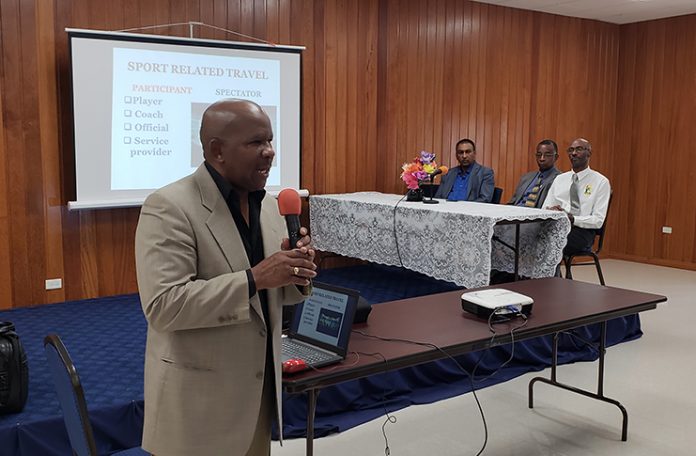 IN a continued effort to encourage Guyana's respective sports association to expand and capitalise on Sports Tourism, the Department of Tourism in the Ministry of Business yesterday hosted its third Sports Tourism Forum at the Guyana Olympic Association (GOA) headquarters at Liliendaal.
Held under the theme 'Growth Points in Sports Tourism: Challenges and Solutions', the forum was headed by Director General Donald Sinclair, along with Trinidadian Andrew Welch, former head of Trinidad Hotels, Restaurant and Tourism Association.
The participants representing various sporting disciplines and the tourism establishment explored growth points and discussed the challenges and solutions that impact the development of a sports tourism sector.
With Guyana observing Tourism Awareness Month, Sinclair said the Department of Tourism is making special efforts to involve regions in the planning of tourism.
Sports tourism, according to Sinclair, refers to travel which involves either observing or participating in a sporting event. He referred to the Caribbean Motor Racing's (CMRC) final leg, which is set for this weekend at the South Dakota Circuit, as well as the ICC Women's World T20 leg, hosted at the Guyana National Stadium as prime examples of some activities that will generate revenue for Guyana's tourism sector.