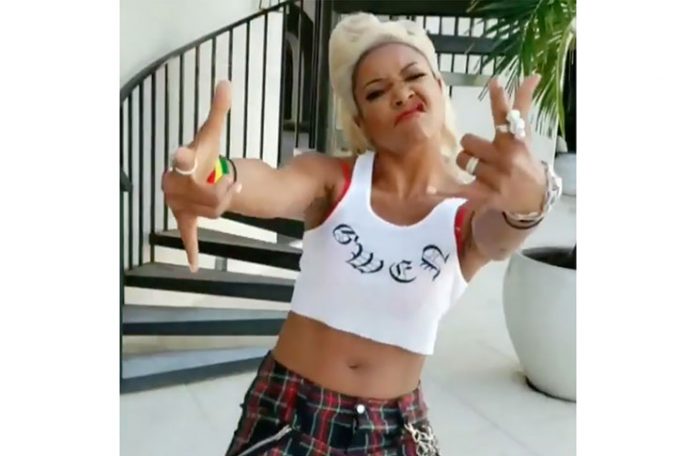 It seemed innocent enough when actress Gabrielle Union decided to dress up like her musical idol, Gwen Stefani, for Halloween. However, despite the fact that Stefani loved the tribute, many moronic white racists blew up Twitter as they accused Union of "whiteface."
To commemorate both the Halloween holiday weekend and her 46th birthday, the "Mary Jane" star channeled her inner Stefani, the former lead singer of the rock group 'No Doubt'. Union even shot a clip of herself rocking to the band's classic hit, "Just A Girl".
When Union tagged Stefani on Instagram, Stefani conveyed her ecstasy in her response: "@gabunion obviously this made me soooooo happy!! Gx"
Despite the mutual love-fest between Union and Stefani, many w hite Twitter users accused Union of "reverse racism." Laughably and erroneously, these persons claim that it's a double standard that former "Today" host Megyn Kelly was fired from her daytime talk show for her blackface remarks, while Union's costume was clearly an example of what they are calling "whiteface."
"So didn't Megyn Kelly just get fired for saying blackface and whiteface were okay if you were dressing up as a person?" asked one confused poster.
"So it's ok for Gabrielle Union to dress as Gwen Stefani a white girl? But it's not ok for Megyn Kelly to dress as Diana Ross?" a proud MAGA supporter wrote, tagging GMA's Twitter account directly. "Can I just say double standard and pure racism towards Megyn Kelly?"
But others believe that these accusers missed the glaring fact that Union wore no complexion-altering makeup and just draped herself in a Stefani-type outfit and a wig.
Some folks with common sense came to Union's defense by stating the obvious: that Megyn Kelly actually endorsed "blackface" while Gabrielle Union simply imitated her musical idol without using any makeup to appear white.
"Did you not listen to the context of why Megyn Kelly got canned and why Gabby paying tribute to Gwen in this fashion is SO far different?" responded one follower.
The appeal to these accusers' common sense was futile and fell on deaf ears as the heated debate about Union's costume roared on social media unabated.