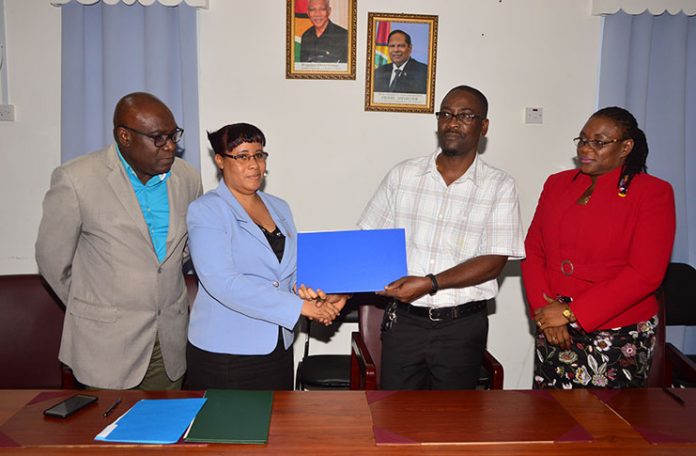 …GTU hails agreement as work in progress
THE Guyana Teachers' Union (GTU) and the Ministry of Education (MoE) on Wednesday signed the agreement granting increases in salaries and other benefits to teachers countrywide.
The agreement will see teachers receiving salary increases for the period of January 2016 to December 2018.
The agreement states that teachers earning below $100,000 will get a 12 per cent increase on their 2015 salaries; and those earning $100,000 and above will get an 8 per cent increase. The agreement notes that the percentage already paid for 2016 will form a part of the payment to be received.
Meanwhile, for 2017, salaries below $100,000 per month will receive an 8 per cent increase, while salaries $100,000 per month or above will receive 6 per cent increase. The document highlights, too, that the interim eight and six per cent on December 2016 salaries received previously will be final.
For 2018, there will be an eight per cent increase across the board on the December 2017 salary. Additionally, a lump sum of $350M has been set aside for debunching of teachers for the period of 2011-2018; and steps will be taken to place teachers in the respective scales from 2019 to reflect the various increases.
NON-SALARY BENEFITS
The GTU and MoE have also agreed that teachers will continue to receive approved rates for improved qualifications. These include: Certificate in Education -$4,000; Diploma in Education -$6,000; Master's Degree – $10,000; Doctoral Degree- $30,000; and Special Needs Degree- $10,000.
For clothing allowances, teachers will receive $8,000 per annum, while the Whitley Council Allowance will be paid in June of the year of entitlement; and leave will be granted on the teacher's time of first appointment, except for those appointed in August.
The two parties have also agreed that any increases on clothing, station/hard lying, risk and travelling allowances will be considered in line with the review of these allowances for the wider public service.
Meanwhile, 100 duty-free concessions per annum for vehicles up to 1800cc will be provided to eligible teachers; All-Terrain Vehicles (ATVs) and outboard engines up to 75 HP will be granted to eligible teachers in the riverine and hinterland areas.
To be eligible, however, there are certain criteria that must be met. Regarding scholarships, 30 teachers will continue to receive these for the period of four years at the University of Guyana (UG) to pursue the Bachelor of Education programme.
An additional 20 teachers will be granted scholarships to pursue Science and Technical Education at UG. Teachers in the hinterland have not been overlooked: existing policy will be reinforced to ensure that they and their families who serve in the interior are given, once per term, a return fare to the coastland.
This benefit will similarly be provided to teachers who are from one area in the hinterland, but serve in another. Taking into consideration teachers' complaints regarding the ratio of students to teachers in classrooms, the new ratios are as follows: Nursery- 15:1; Primary Grades 1 to 2 – 20:1; Primary Grades 3 to 6 – 25:1; Secondary – 25:1 and Practical Instructional Centers – 15:1.
Meanwhile, the two parties shall mutually agree on a mechanism for the implementation of the Housing Revolving Fund. As such, a six-member committee will be established to prepare a position paper on the granting of house lots to teachers and the Revolving Loan Fund.
Added to this, the GTU president and general-secretary shall be released with pay on a full-time basis to serve the membership of the GTU and all general council representatives, with the relevant approval, shall be released to attend to the teachers' matters. Also, all central executive officers shall be released to perform GTU duties every Wednesday and when necessary; statutory meetings between the parties must be on a monthly basis and schools on the coastland and hinterland shall be granted one session per month and one day per term respectively, for GTU meetings.
NEW BEGINNINGS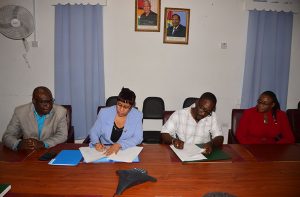 "I think the signing today is symbolic that we intend to have a working relationship with all our stakeholders, all our partners and we consider the union to be an integral part of what we do at the Ministry of Education. "I do not believe we can function effectively without the union and their input. So, today, I'm happy that they've come so far as a team and I believe the time is opportune now for us to seriously work together for the benefit of our children in this country, and that is moving education forward," said Chief Education Officer (CEO) Marcel Hutson at the signing ceremony.
He stated further that the agreement marks the beginning of an improved relationship and thanked the GTU and its members for being integral in working towards the final position.
GTU President Mark Lyte said that while their requests were not met precisely, teachers stand to benefit from the adjusted salaries and benefits.
"It has been a long haul. We recognised that as a union there are several things that we would have requested that were not granted; but nonetheless, we believe that it's a work in progress to move forward. We look forward to a new agreement in the new phase in 2019, so that we can have more benefits given to teachers.
"But looking at the present agreement, we believe that our teachers are going to benefit from outstanding clothing allowances; they're going to benefit from increases that date back to 2016," Lyte said.
He noted his approval to see the engagements between the MoE and GTU move from a stage of arbitration to amicable settlement and thanked the union and teachers countrywide for their support during the period. "We want to ensure our members out there that we fought very hard to ensure that all the benefits gained would reflect in a positive way on the lives of our teachers. We believe that what has been gained today will result in our teachers being better able to service their classrooms in a satisfied way; and being able to satisfy their families," he said.