The Miss India Guyana pageant will see its top 10 finalists being sashed this Sunday at the M&M Snackette Banquet Hall.
These young ladies were selected after weeks of being vetted by the pageant judges and have since begun training to prepare for pageant night on October 27.
Meet the 10 confident young ladies vying to be the crown and a chance to represent their country:
Delegate #1: Umilla Ganpat
Age: 19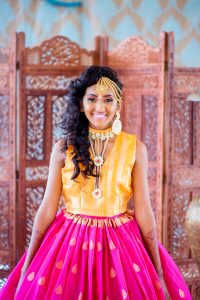 Hailing from the Ancient County of Berbice, Ganpat considers herself an active, out-going young lady, who spent her early days being young and carefree within her family of seven, and of Friendship on the East Bank of Demerara.
A country girl at heart who always enjoys the simple pleasures of life, she enjoys spending quality time with her family, friends and other relatives, treasuring every moment she gets to spend with them, having once almost lost it all in a tragic accident. For Umilla, the experience has taught her to always be thankful to God for spared life, health and strength,
"I have learnt to take life seriously and live each day fulfilled and to the best of my abilities," she says.
She enjoys going to the Mandir, singing, dancing, sewing, fishing, and cooking. She runs a small catering business called Chrissy's Cake and is very proud to have joined a line of powerful and successful women on the active path of entrepreneurship
"I consider myself multi-talented as I also decorate for weddings and parties in my free time. My goal in life is to help the less fortunate especially children who are unable to reach their full potential due to financial restraints," she shared.
Delegate #2: Maya Persaud
Age: 24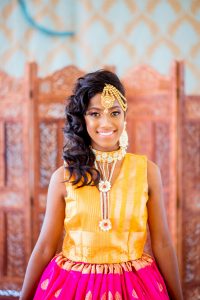 Maya describes herself as confident, ambitious and artistic. Being a former contestant on the E-Networks Emerging Voices talent show, Maya is no newcomer to being in the limelight. She considers herself a vibrant young lady hailing from the small village of Soesdyke, where she and her four siblings were raised by their mother single-handedly. She has a passion for advocating awareness of depression and mental health.
"In life, I have had many dark days but I've never let that bring me down, instead those days have made me into the strong woman I am today," she says.
Though she currently works as a cashier, Maya aspires to one day being an entrepreneur and becoming someone that persons can look up to for motivation and added guidance. She joined the Miss India Guyana Pageant because she believes it will help her in her pursuit of becoming an active role model.
"I consider myself very blessed to see each day and if I shall win Miss India Worldwide Guyana it would be a dream come true not just for me but for my mother as well. She likes spending time with my family and friends, and going to the Mandir and learning about my rich culture and traditions.
Delegate #3: Farisha Razak
Age: 18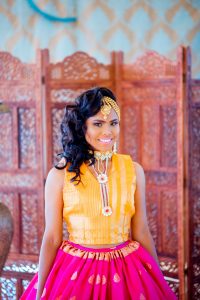 An accomplished dance coach at her High School, Razak enjoys dancing, singing, playing sports and spending quality time with her two younger brothers. She assists in her family's block making business.
She's currently pursuing General Educational Diploma (GED) and wants to explore many countries and cultures across the globe, which makes it no surprise that her career goal is to become a Flight Attendant. Towards that end, she is also in the process of learning four foreign languages. Another goal of hers is becoming a professional model. As a Guyanese of Indian descent, her focus is to educate and contribute towards the maintenance of her traditional customs and culture.
Delegate #4: Oma Davi Singh
Age: 23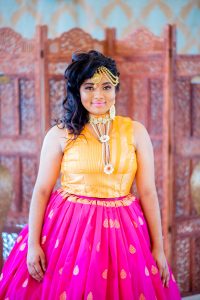 Uma Davi is as confident as can be that she's going to be the one to walk away with the Miss India Guyana crown, and to "shine as no other ordinary girl has shined before". She works at the Guyana Revenue Authority where she has worked for the past seven years. She is very business oriented obtaining her diploma in Business Studies from Nations University.
She credits herself with having outstanding communication and social skills and is always willing to lend a helping hand to those in need.
She is a lead dancer of well-known Bollywood dance group "Ishara Dance Troupe", which has been performing both locally and internationally for some seven years now. She has been performing alongside the dance troupe, at countless charity events; namely, the nirvana society which facilitates concerts and feeding programmes for children and elders. Her passion for pageantry comes from her longing to give back to society. It is her desire as queen, to bring joy and happiness to those children who may not be living with families who are not financially equipped to care for them adequately.
Delegate #5: Shoshanna Ramdeen
Age: 22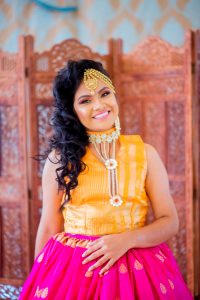 Hailing from the West Coast of Demerara, this aspiring medical practitioner is currently a third-year student at the Greenheart Medical University.
When Shoshanna is not at her home in Tuschen with her mom and sibling, you may find her volunteering in NGOs, dancing or socializing with her friends. She describes herself as a selfless, driven, committed individual, traits she acquired while a student at the Zeeburg Secondary school.
An avid reader, Shoshanna draws much of her inspiration from writers who convey their real experiences presenting accounts of their challenges, and revealing how they overcame them. She believes that one is not necessarily born with courage, but rather, one is born with potential.
Delegate #6: Bibi Saudia Safik
Age: 20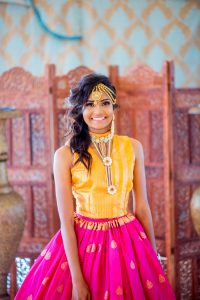 Standing at five feet 10 inches Bibi considers herself a humble individual whose personality is filled with motivation, a positive attitude and a fearless mindset.
She embraces the philosophy of believing in yourself and having faith in your abilities. Her greatest belief is that "Nothing comes easy in life, but if you believe in yourself then anything is possible".
"Without a humble but reasonable confidence in your own powers, you cannot be happy or successful," she says.
In her leisure time, she enjoys socialising, singing Indian music, travelling and exploring new places. Most of her time away from work is spent with her parents and younger sibling at home since she believes "The love of a family is life's greatest blessing". Saudia is currently employed with the Regional Democratic Council (RDC) Region Three), working at the West Demerara Regional Hospital as an Accounts Clerk. She is currently enrolled as an Associates Of Business Executives (ABE) student at Nations University, with the hopes of completing her Masters in Business Management by 2020. In five years, Saudia sees herself as being a Manager or CEO of a reputable company.
Delegate #7: Truvanie Persaud
Age: 18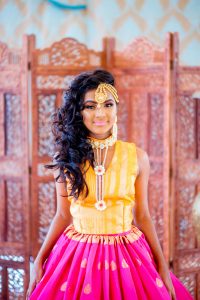 An active young adult, Truvanie likes to have a positive attitude toward everything that happens in her life.
"My family taught me that no matter what happens it is significant to preserve a sincere smile on our faces. Even if something bad occurs, my parents told me to find something positive. As long as we are alive, there should be something good in the surrounding world," she expressed.
She is currently a phlebotomy student at the Qualitest Medical Institute, upon completing her studies and gaining her Bachelor's Degree she hopes to become a registered nurse. She says she has a humble personality, filled with ambition and determination, and the qualities of benevolence. Truvanie is a competitive table tennis player, getting into the sport has helped her to move away from being a shy girl and becoming confident and high spirited, developing her ability to focus and concentrate.
She has a deep admiration for her mother, who she credits for helping her become the young lady she is today.
Delegate #8: Dhanita Walter
Age: 23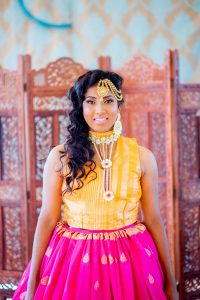 Hailing from the tropical county of Demerara, Dhanita possesses a very pleasant and simple personality with a love to keep learning and experiencing new things in life. She is a very committed and persistence person who believes in the key to work hard and keep moving forward whenever you encounter obstacles in life.
An optimist, Dhanita takes part in singing at her Mandir and dancing on stage for cultural events. Being the only female in her family, this vigorous young lady single-handedly manages her household responsibilities, work commitment, studies, and pageantry.
Dhanita is currently a student of Accountancy Training Centre (ATC) where she is currently pursuing her advanced Diploma Certificate in Marketing and Business Management. She is also an employee at the West Demerara Regional Hospital.
This young lady is striving to elevate herself in the world of the business and to become a senior manager for a reputable company in the future. However, she wants to develop the sensational and unique Indian culture in her country and for it to be spread across the globe.
Delegate #9: Bibi Sherina Mohamed
Age: 21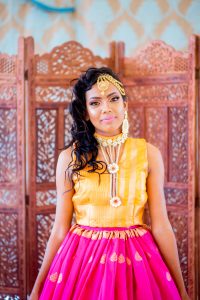 Bibi originated from the village of Foulis on the East Coast Demerara. She possesses a personality filled with determination and countless ambition. Bibi considers herself humble, reliable and intelligent and lives by the philosophy of "be the change you want to see in the world" by Mahatma Gandhi.
This exceptional young lady who enjoys dancing, baking, planning surprise parties, gardening and modelling in her free time. After obtaining 10 successful passes within her CSEC Examinations, Bibi is currently enrolled as an ABE student pursuing her Associate Degree in Business Management and it is her hope to read for her Master's in Business Management in the future.
Bibi Sherina considers herself a well-rounded young woman within society, one who sets a leading example for other young individuals, showing that life doesn't come to a stop after achieving your goals.
Delegate #10: Surujdai Mukhram
Age: 21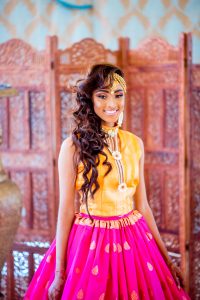 Surujdai considers herself the epitome of confidence and determination, believing that hard work and dedication will aid her path to success. A proud alumna of Bishops High School, this energetic young humanitarian is the founder of the Inter-Environmental Club in 2014, which promotes protecting and preserving our environment while helping our community. This one act of humanity led her toward receiving the prestigious community service plaque from the Bishops High Old Students Association. Intellectually self-motivated, Mukhram is the holder of an Associate's Degree of Arts in Economics (CAPE) in addition to being awarded 13 CXC subjects. She has been involved in many sports.
This enthusiastic youth counsellor and programme coordinator organises weekly classes, motivational sessions and workshops, monthly haircuts for the children, birthday parties, game days and movie days.