– Regional Coordinator urges businesses to register early
THE much anticipated agricultural and commercial fair, Essequibo Night, is slated for October 26 and 27 at the Anna Regina Community Centre Ground. According to Regional Coordinator, Morris Walcott, forms for the purchase of booth spaces are available and urge businesses to get registered early in an effort to avoid last-minute rush.
During an interview with The Buzz, Walcott said that the "Essequibo Night Exhibition and Fair" was rebranded as Regional, Agricultural and Commercial Exhibition (RACE) which aims at fostering social cohesion.  He said the RACE committee is presently in the planning stage and thus far it has been receiving overwhelming support from the business community.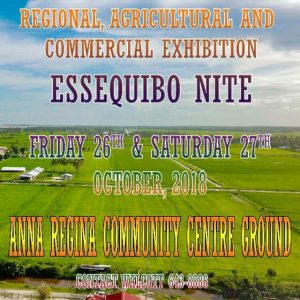 Walcott said that security will be top priority for the two-night event and the RACE committee is working in partnership with police from G Division to ensure that there is a smooth flow on traffic. Special traffic arrangements will be made on the nights for those accessing the ground.
The regional coordinator said that the Regional Works Committee will begin to construct booths in coming weeks as planning progresses for the region's biggest annual fair. The committee will also be making arrangement with the Transport and Habours Department for special concession to be given on vehicles utilising the ferry services. Those persons applying for food booths should have a food handlers' certificates and also will undergo necessary training by Ministry of Public Health Officers. Gates will open on Friday October, 26 from 16:00 hours and the official opening will commence on 20:00 hours. Several government ministers are expected to attend the opening. Tickets cost $500 for adults and $300 for children.