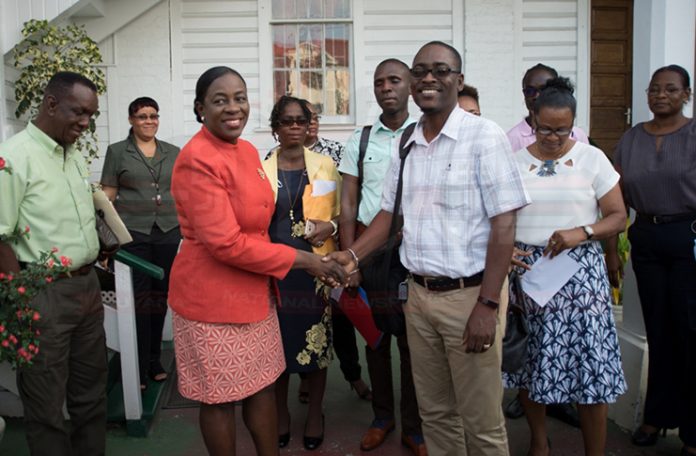 The Guyana Teachers' Union (GTU) and the Ministry of Education (MoE) have ironed out an agreement to avert the teachers payment crisis.
Here is what we know: 
-The teachers will receive a 12% retroactive payout for 2016
-They will also receive  incremental increases of 8%  for the years 2017 and 2018.
-A sum of $350M was being offered for debunching for the period 2011 – 2018.
The two sides met on Friday at the ministry's offices at Lot 26 Brickdam for discussions which took several hours before an announcement was made.
---
Below is a statement released by both parties:
"The Ministry of Education (MOE) and the Guyana Teachers ' Union met on Friday October 12, 2018 to consider the offer relating to salary increases.
Having considered the new information provided, which included salary benefits for all scales of teachers  ranging from TS1 to TS 19 and Special and non-salary benefits, the two parties concluded discussions and have committed to the implementation of the new agreement. The three –year 2016-2018 agreement will be signed in the new week.
There was an amicable settlement for the matter not to proceed to arbitration."
---
An almost two-week strike by teachers came to an end just last month, when the GTU and the ministry agreed to take their salary dispute to arbitration.
The GTU had called for arbitration after the negotiation talks ended in impasse when the union rejected the ministry's offer of a one-time pay out of $700 million towards salary increases, and $200 million for debunching.
GTU instead called for an increase of 40 per cent for 2016 and respective incremental increases of five per cent for 2017, 2018, 2019 and 2020. After the two sides agreed to move to arbitration, President of the GTU, Mark Lyte, had announced that GTU was willing to accept as little as 20 per cent.
On Monday of this week, at a meeting between President David Granger and the GTU, a new salary offer was extended to the union which would see teachers being paid retroactive salary increases beginning with 10 per cent for 2016, and incremental increases of 8 per cent for 2017 and 2018, respectively. A sum of $350M was being offered for debunching for the period 2011 – 2018.
After reports surfaced that the GTU had rejected the government's following the meeting with the President, another meeting was called mid-week between both sides and they appeared to be one step closer to ending the impasse.(Navendra Seoraj)