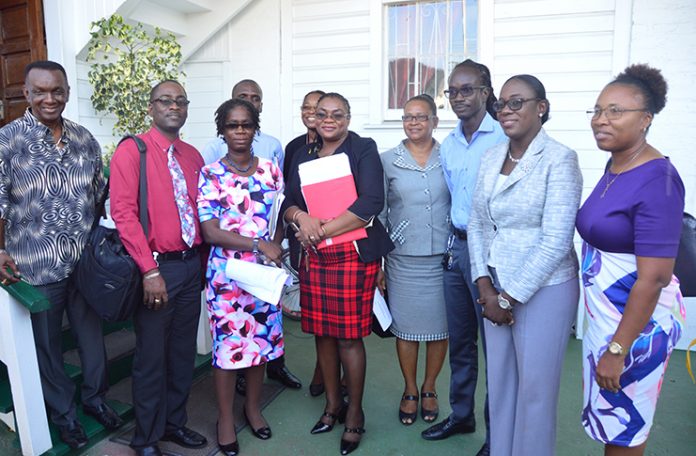 …GTU says teachers can sleep easier
…'something good is expected' following talks with MoE
THE Guyana Teachers Union (GTU) and the government appear to be one step closer to ending the impasse related to a salary increase and non-salary benefits for teachers, as executives of the union and the Minister of Education, Nicolette Henry, concluded "fruitful" discussions on Wednesday.
"Teachers can sleep easier, knowing that something good is expected to come on Friday," said General Secretary of the GTU, Coretta McDonald, in an invited comment following another round of talks. It was all smiles and laughter after the meeting, something that was absent for weeks during dispute between the two parties.
The meeting was described by both the GTU and the ministry as a "working meeting" where new information was provided; information which was not discussed or considered prior to the offers made before. In a joint press statement from the GTU and the ministry, it was said that parties are committed to reviewing the new information with a view of ensuring that the interest of all teachers will be considered.
The Ministry of Education has undertaken to provide a matrix of figures which will be presented for discussion on October 12, 2018. An almost two-week strike by teachers came to an end just last month, when the GTU and the ministry agreed to take their salary dispute to arbitration.
The GTU had called for arbitration after the negotiation talks ended in impasse when the union rejected the ministry's offer of a one-time pay out of $700 million towards salary increases, and $200 million for debunching.
GTU instead called for an increase of 40 per cent for 2016 and respective incremental increases of five per cent for 2017, 2018, 2019 and 2020. After the two sides agreed to move to arbitration, President of the GTU, Mark Lyte, had announced that GTU was willing to accept as little as 20 per cent.
On Monday, at a meeting between President David Granger and the GTU, a new salary offer was extended to the union which would see teachers being paid retroactive salary increases beginning with 10 per cent for 2016, and incremental increases of 8 per cent for 2017 and 2018, respectively. A sum of $350M was being offered for debunching for the period 2011 – 2018.
Although the union has not confirmed if they accepted that offer, Minister Henry said the increase is a work-in-progress and would be addressed during interactions with both parties.
McDonald also agreed that the issue of salary increases is being addressed and hopefully, they could reach a resolution on Friday. "We would have all teachers benefitting from whatever the increase is going to be…we would have had promotions and it comes with new salaries," said the GTU general secretary, adding that the increases will fall into category/scale of the teachers. Teachers are placed in scales which run from TS1-19.
The union encouraged teachers to have faith in the GTU, since there were widespread discussions and every teacher had their say. Prior to Wednesday's meeting, it was reported that the union had rejected President Granger's offer. McDonald was reported as stating that, consequently, the government would now either need to rethink its position or the parties would have to head to arbitration.
Responding to these reports, President Granger said that the list of matters proposed by the GTU in at least one newspaper and which was attributed to one person, were not matters that were raised on Monday. "Some of the matters which seem to be reported in the media were not raised on Monday, were not even raised on Friday, otherwise we would have resolved them. So, it was quite astonishing that these matters, going back to the appointment of an arbitrator, these matters didn't come up at all. So, I was quite surprised that matters that we assumed had been settled as of Monday found their way into the columns of the newspaper in Wednesday," he stated.
The President elaborated further: "We also had an understanding —I won't call it an agreement — that the government's side was obliged to go back to the Ministry of Finance in order to verify the figures and that the union's side would go back to the executives in order to ratify the figures. "So when we parted on Monday morning, there was no talk about going to the media, 'trial by the media', there was talk about verification of the figures from the Ministry of Finance and maybe seeking the assent by the executives of the GTU."