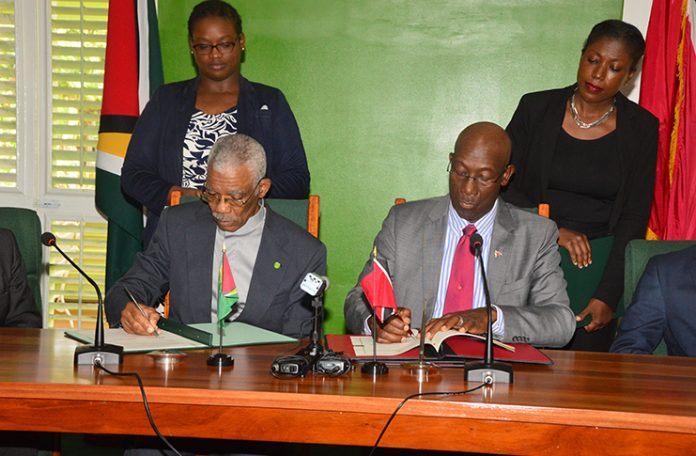 … Paving way for enhanced cooperation on energy
…President Granger hails pact as win-win for both countries
TAPPING into Trinidad and Tobago's wealth of experience while that country capitalises on Guyana's natural resources would create a win-win situation for both countries, President David Granger said, moments after signing a Memorandum of Understanding (MoU) with Trinidad and Tobago's Prime Minister, Dr Keith Rowley, on Wednesday at State House.
The signing of the MoU, which creates greater avenues for cooperation in energy between the two CARICOM Member States, was witnessed by Vice President and Minister of Foreign Affairs, Carl Greenidge; and Trinidad and Tobago's Foreign Affairs Minister Dennis Moses along with other Cabinet members from both sides.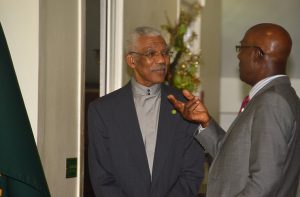 The MoU sets the platform on which Guyana and Trinidad and Tobago can develop and promote joint projects throughout the hydrocarbon value chain, in accordance with identified provisions and without prejudice to their respective national legal systems.
While highlighting the rich history between Guyana and Trinidad & Tobago, President Granger said though the MoU is largely focused on cooperation in energy, the bilateral talks which preceded the signing on Wednesday covered a wide range of areas including agriculture, security and youth and sport.
The President, declaring that there is much to learn from the twin-island republic, said through collaboration, the social, physical and economic landscape of Guyana can be further transformed. "Trinidad and Tobago is one of the most developed countries in the Caribbean in terms of its economy, in terms of manufacturing, in terms of the exports, in terms of the standard of living, in terms of education, and Guyana of course is the largest CARICOM state.
"We have abundant raw materials, natural resources – gold, diamond, timber, manganese, bauxite – and we are confident that by collaborating, we will be able to combine the natural resources of Guyana with the entrepreneurial expertise, capital and investment from Trinidad, so for both of us it is a win-win situation," the Guyanese leader explained.
STRENGTHENING COOPERATION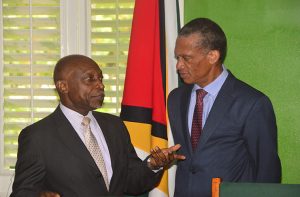 He emphasised that the commitment to strengthen cooperation between two countries does not only mean well for them but it is a significant step in making the Caribbean Community (CARICOM) stronger. Weighing in on the topic of cooperation, Prime Minister Rowley said the signing of the MoU as well as the Framework Agreement for the deepening of bilateral cooperation, which was renewed earlier this year, will pave the way for economic opportunities to benefit the people of Guyana and Trinidad & Tobago.
"We anticipate that the roles of the Governments in laying the groundwork and providing the encouragement for our private sectors to seize opportunities which are available to both countries at this time could only be a good thing for the people of Trinidad and Tobago and for the people of Guyana," he told those present at the signing ceremony.
Like President Granger, the TT Prime Minister underscored the significance of maximising on each other's resources and expertise for economic prosperity. "We should not acknowledge the existence of 'borders' but let our efforts identify the resources available in each of our countries and to put those resources whether they be financial, raw material, our entrepreneurial skills, to work, so as to grow the economy of Guyana and Trinidad & Tobago, where two groups of people with so much in common and so much history and so much common desire can advance ourselves, that we should not be held back by any bureaucratic impediments," Dr. Rowley said.
COOPERATION IN ENERGY
The MoU consists of a total of 14 Articles, which clearly stipulate the areas of cooperation in the energy sector, and pave the way for the establishment of an executing committee and a joint working group.
According to Article 2 – 'Areas of Cooperation,' the two countries may provide technical assistance in the areas of exploration and production of hydrocarbon resources; exchange information on public policies in the areas of regulation, administration and sovereign management of hydrocarbon resources and technology transfer; promote training and capacity-building of technical personnel; development procedures to prevent and respond to operational accidents which may result in damage, environmental impacts and personal injury.
Under Article 3, the CARICOM Member States have agreed to establish an Executing Committee, comprising ministers responsible for energy on both sides. That committee will establish a Joint Working Group comprising a maximum of 10 representatives – five from each of the two countries.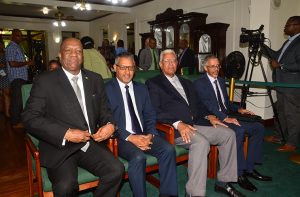 "The Joint Working Group will identify and evaluate the feasibility of the projects and activities in pursuance of the objective of this MoU, and will advise on potential areas of cooperation between Guyana and Trinidad & Tobago in accordance with guidelines set by the Executing Committee," Article 4:01 states.
The Joint Working Group, under Article 4 of the MoU is required to establish Joint Technical Teams, which would be expected to report to the Joint Working Group within three months of their creation; and receive, consider and make recommendations in writing with supporting documentation to the Executive Committee.
According to Article, the MoU does not provide any exclusivity or prohibit Guyana and Trinidad from entering into agreements of similar nature with third parties. The MoU is not a legally binding agreement; however, it is in effect for a period of five years.
Minister of State Joseph Harmon; Minister of Business Dominic Gaskin, Minister of Agriculture Noel Holder, Minister of Social Cohesion Dr. George Norton, Minister within the Ministry of Finance Jaipaul Sharma formed part of the Guyanese delegation while Trinidad's Ministers of Energy, Sport and Youth Affairs, Planning and Development, and Agriculture and Fisheries accompanied Prime Minister Rowley.