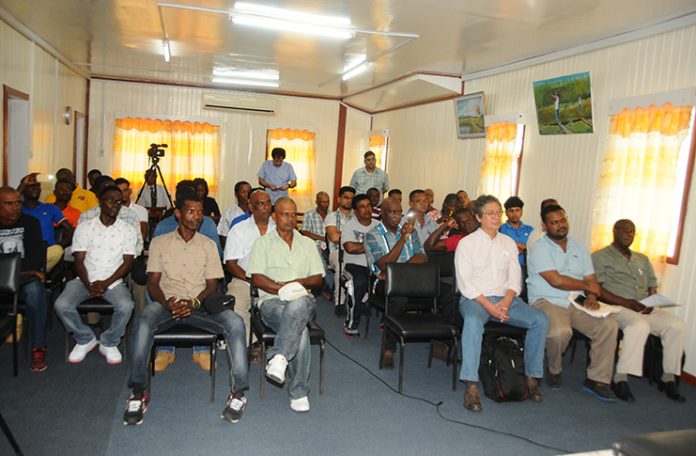 THE first batch of 30 sugar workers participating in the UNIFOR/Guyana Agricultural & General Workers Union (GAWU) Educational project have completed the initial stage of their training in industrial relations activities.
The sessions which began on September 5, 2018 and concluded on Saturday, saw workers from Albion, Blairmont and Uitvlugt estates attending the classes which was facilitated at the GAWU Labour College.
During the sessions, participants were exposed to international, regional and local developments in the sugar sector; a special presentation from GuySuCo on its plans for the sugar industry and the experiences following re-organisation of the sugar sector in the Caribbean.
They were also provided information on GAWU's participation in national sugar discussions; the sugar industry and its relations with the economy and society; the structure and history of GAWU; review of relevant labour legislation, agreements and international conventions and other topics.
The participants will return in 2019 for another one-week training session where they will share their experiences gained from the training and receive additional teaching on matters beneficial to them.
The one-year $6.5M educational project, funded by UNIFOR's Social Justice Fund (SJF), has devised several strategies to remain in contact with the participants. It will aid in assisting workers in overcoming difficulties faced; provide necessary material and information they would need to speak with workers and community members.
In a media release from GAWU on Tuesday, the union stated that the workers were appreciative of the training sessions having learnt much of the information for the first time. They also committed to returning to their respective workplaces and communities to share what they learnt.
Meanwhile, GAWU's President Komal Chand expressed the union's appreciation to UNIFOR for its timely support and encouraged participants to make full use of the training and techniques taught.
He also thanked GuySuCo for its support in facilitating the paid-release of the workers to attend the training programme. Similarly, UNIFOR's National President, Jerry Dias said his union was pleased to lend support as he pointed out that the participants have the ability to effect change to their benefit. The next course is set to take place by the end of October, 2018 with subtle changes to allow for a smoother flow of the sessions.
GAWU's said in the release that it has always strongly held that education of union members is a critical task, as it is only through such that workers can better understand their rights, obligations and become better union members, employees and persons in society.