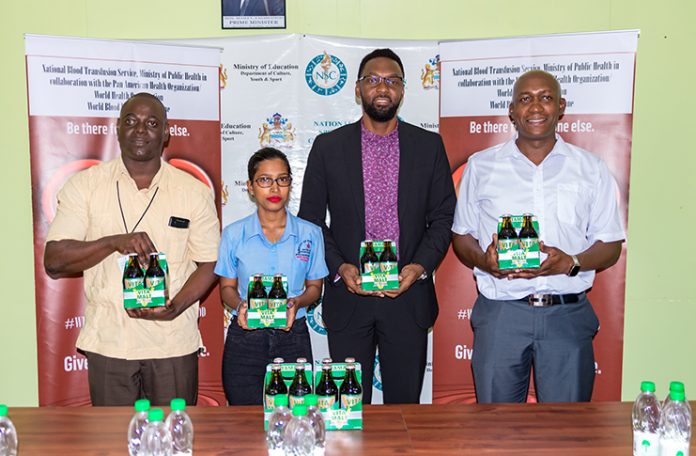 THE National Sports Commission (NSC) will be partnering with Banks DIH under their Vita Malt brand, to host a 'Blood Drive' on Saturday September 15, at the Cliff Anderson Sports Hall (CASH), using sport as a vehicle to promote a healthy lifestyle and to aid the National Blood Bank exercise.
According to Director of Sport Christopher Jones, the idea is to encourage the country's athletes and sports enthusiasts, to be regular donors of blood, which in turn will prompt them to be more health conscious, since in becoming a donor, it will require a certain lifestyle.
"The NSS solicited support from the national associations and the sports men and women all across Guyana, to come out to the CASH on Saturday the 15th and donate blood. This is a partnership recognising the importance of blood, to the Blood Bank," Jones told reporters at a press briefing yesterday at the NSC's headquarters on Homestretch Avenue, Georgetown.
Jones was adamant that athletes can play an important role in the National Blood Transfusion Services blood drive, given the fact that they can encourage or motivate others to follow their lead.
Meanwhile, Pedro Lewis, Director at the Ministry of Education's National Blood Transfusion Services, told reporters that the event on Saturday will be the first of its kind, where the country's sports men and women will be the direct target of their blood drive; an initiative he said will be repeated annually.
"We're not just marketing the blood bank where we promote voluntary blood donation, but what we do, we change lifestyle," Lewis said, while adding "It's not something simple, it's very difficult. I mean, a lot of people see it every day, where people call the Blood Bank daily for blood to save lives."
"We have to think outside of the box to get people to donate blood. I'm so happy that we have this opportunity, this is the first event of its kind with the NSC and we hope to have it every year," Dr. Lewis noted.
Donors are asked not to consume alcohol for 24 hours prior to the event, while those with tattoos done under 12 months, are not eligible to participate in the blood drive.
Dr. Lewis explained that donors will be screened and according to Jones while persons await their turn to donate, the NSC has organised a series of sporting events to occupy their time.
"Let's just say that it is not going to be a boring day. We intend to have fun while giving blood, saving a life and promoting a healthy lifestyle," Jones said.
Clayton McKenzie, Banks DIH Limited Non-Alcoholic Brand Manager, said his company shares a long history of assisting the National Blood Bank, and that as usual, donors will be given a free Vita Malt.