SEVERAL areas in Georgetown experienced flash flooding on Tuesday morning following intermittent but heavy rainfalls which began around 08:45hrs.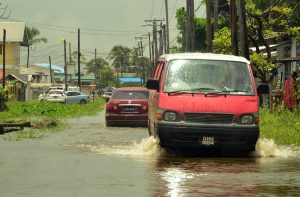 According to the Civil Defence Commission (CDC), flood waters were four inches high in West Ruimveldt and seven inches high in First Street Alexander Village. The Guyana Chronicle also visited these flood-prone areas and found that Alexander Village was most affected.
There, persons traversing were seen carefully manoeuvring the floodwaters by way of vehicle while others waded by foot.
Meanwhile, on Ebenezer Drive, West Ruimveldt at the Our Heritage Day Care Centre, the floodwaters had stopped just short of entering the building where activities were ongoing as per normal.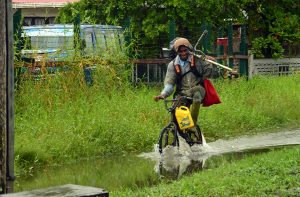 There were mild effects in South Ruimveldt. The CDC has since reported that water was receding with the afternoon low tide and no homes were seen or reported to be under water in both areas. It also stated that the Alexander Village canal and the Laing Avenue Canal are blocked with vegetation and sediments which contributed to the floods due to heavy rainfall.