– to be completed ahead of schedule
THE construction of a new $250 million drug bond at Kingston is 65 per cent completed, said Minister of Public Health, Volda Lawrence, adding that it is expected to be completed before the scheduled time.
According to the minister, the contractor is "way ahead" of time in terms of percentage of work that has been done so far.
"It was built off of the ground, so that flooding won't be an issue… because it is new we will also alleviate the leaking of the roof, which was an issue in the old bond," said Minister Lawrence in an invited comment on Sunday.
The facility is being built in various sections, so that it would be easily accessible and would provide for better storage of medical drugs. The new bond will also include accommodation for staff.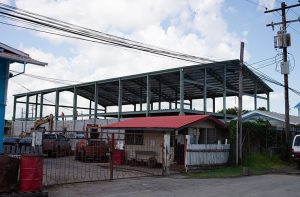 Over at the Diamond, East Bank Demerara (EBD) drug bond, the expansion project is moving apace, said the minister, noting that the entire framework has been completed and the enclosure done.
"All that is left to be done now is the electrical work and air condition," said Lawrence, adding that she hopes it will be handed over ahead of schedule as well.
Last year, the Ministry of Public Health made a commitment to ending the rental of drug bonds, in particular, one at Sussex Street, Charlestown, by the end of the year.
The Ministry of Public Health had been subjected to criticisms over its decision to rent the building located on Sussex Street, Charlestown, from Linden Holdings Inc., owned by businessman Larry Singh, to be used as its secondary storage facility for pharmaceutical supplies.