….rice fields under threat
On Monday afternoon water was observed gushing through the sluice door at a koker at Golden Fleece on the Essequibo Coast and rice farmers are worried that their farmlands would be damaged.
Reports are that a  breakage in the sluice door was observed around 16:00hrs by the koker attendant who subsequently informed the authorities.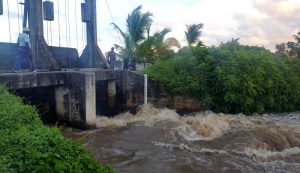 Regional officials have responded to the situation and a contractor is attempting to mobilise equipment to stem the flow of water into the area. Over 3000 acres of ripen rice fields are under threat.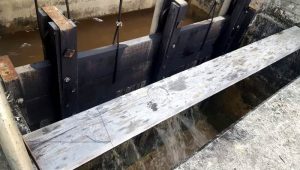 Reports are that rice farmers are worried since harvesting is ongoing and the waterway is connected to the farmlands in the area.
The Guyana Chronicle will provide additional information as it becomes available. (Indrawattie Natram)