– chairman encourages all to vote
TRAINING of officers to work on the day of Local Government Elections (LGEs) has commenced as the Guyana Elections Commission (GECOM) prepares for the big day on November 12.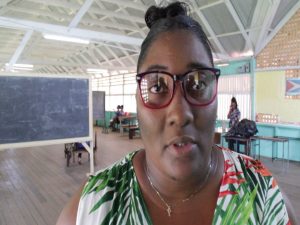 From the moment the Minister of Communities Ronald Bulkan indicated when the elections will be held, GECOM's Public Relations Officer (PRO) Yolanda Ward said the commission had certain statutory requirements to follow.
"On the training side of things, we started with the training of trainers' workshops," Ward said, pointing out that persons were trained intensively for two days and in turn are required to train others for the polling day activities.
Those trainers were evaluated and brought in for additional preparation sessions to ensure that they are able to deliver content to the others. As such, Ward posited, "The trainers we have are of the best quality."
The management staff — those officers who are assigned to the offices of the returning officers in all 80 local area authorities across Guyana — were trained already.
Ward however highlighted that an average of 8,000 persons are required to work on elections day and the commission has to go into the constituencies nationwide to recruit those persons.
On Saturday, training began in 19 locations across Georgetown, with a total of about 65 persons at each location. This training will go countrywide in the coming weeks.
And to ascertain that the persons being recruited are qualified, she noted that there are several evaluations done throughout the two-day period.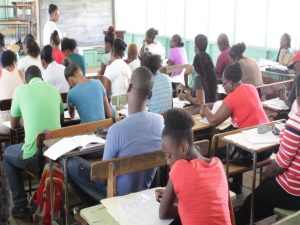 On Saturday, GECOM Chairman James Patterson paid a visit to the training session held at the Campbellville Secondary School and indicated to the officers that they were selected on the basis of merit and they ought to carry out their roles diligently.
He also said that it is important for persons to vote come elections day.
"It is very important that all who are of age and have the eligibility should vote… not only in the national elections, but in the Local Government Elections," the GECOM chairman said.
He reminded that there were no LGEs held for about 20 years prior to the 2016 elections and stressed: "We have got to be civic-minded."
In addition to training, Patterson highlighted that GECOM has a voter education department and while it is not fully staffed, there are personnel in the department who endeavour to educate the public.
"GECOM's pursuit and the heart of our pride is to see that these elections continue in their best way and are pronounced free and fair," Patterson said, adding: "We do not care who you vote for, just exercise your franchise."