– 'Once you have them and they increase in their numbers, what are you going to do?'
MARLIN Motiram has always owned a dog and other pets while growing up, but she never thought that one day she'd be the owner of 57 dogs!
She had as many as 80 up to last year as a result of accepting stray dogs from persons who found them. But lately, she decided that she had enough to care for and therefore stopped accepting more.
Motiram, 69, migrated to England when she was just 11 years old and returned to her homeland about 15 years ago. Ever since then she's been residing at Bushy Park, Parika.
"I lived in England and I am still back and forth between here and there. I love animals; I had a few and it just happened now that I have a lot. People would bring their stray dogs and I would take them in. I also go out and feed some stray dogs at the junction," she told the Pepperpot Magazine in an interview.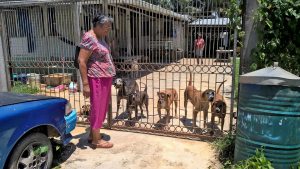 Motiram lived in the street leading to Bushy Park beach but moved to another house on the Parika main road so as to afford the dogs more space. "At first, a few of them came in and I fed them and they stayed. I have 57 dogs at the moment. I have a big yard and lots of space," she related.
Each day, Motiram will make her way to the dogs where she will spend most of her day. "I don't work otherwise, but I have an income because I look after my rented properties. So, most of the time, I am with the dogs. I live on the main road but I come here in the mornings. I used to live here but then, I think the dogs got too many so I moved to give them space," she recalled.
Motiram has hired two persons to help care for the dogs and they would cook daily for the animals. "We have two big karahis; we cook meat and rice and vegetables. And then they have the dog chow. Every day we cook; they must eat every day," Motiram, who finances it all, expressed.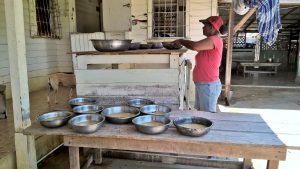 She said there is also a vet who would go to the facility to have the dogs vaccinated and whenever one is sick. Whenever there is a need for the dogs to get to Georgetown, Motiram would transport them in her car.
Speaking about the reason she chooses to invest so much time and resources into the dogs, Motiram expressed: "I don't have a reason; it just happened. I love animals and once you have them and they increase in their numbers, what are you going to do? You can't put them out on the road. And I just love animals; and I hate to see them suffer."
But dogs are not the only animals she's interested in. "I like all animals. I like cats, dogs, any animal. It's just that the dogs happened to be there. But I mean, I would love to have cats as well. But the dogs don't like cats; so they will get killed."
Motiram is not so sure what is responsible for this kind of love she has for animals but she feels it may have something to do with the fact that while growing up, she did not have a lot of company. "I always had a dog while I was growing up; always had animals. I really liked animals maybe because my sister was much older than me and I was on my own, in a way."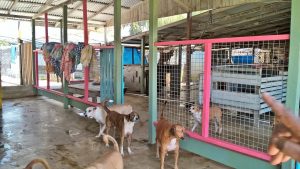 Recently, Motiram has gotten in touch with a rights activist, who in turn has put her in touch with someone who helps to take care of animals. "One time I got help to vaccinate the dogs because there was a big scare of a virus."
Motiram, whose husband is dead, finds a lot of joy in caring for the animals. "They give me a lot of joy. I mean, when you come in and they all jump up, it gives you a lot of joy. And every day is a nice experience with them. Now I am getting a little older so I am trying not to take in any more. Right now I have enough to cope with so I have to refuse when people bring."
Each of the dogs, mostly the common breed, has a name. "They're all from families so they have names," she said.