IN 2012, Indra Jacobs made a decision to leave her village of Yawong located in the valley of the Paramakatoi Mountain Range in Region Eight (Potaro-Siparuni) and journeyed to the city in search of work.
Today, the 24-year-old mother of two is employed at the Guyana Fire Service (GFS) as a stores clerk.
According to Jacobs, being a stores clerk entails issuing stock, intake of stock and doing inventory of uniform and stationery. She is also tasked with balancing the books daily and ensuring all stocks are accounted for and the stock room is efficiently run. Jacobs has been employed with the GFS for the past three years and five months and although she has never been on a fire scene like her colleagues, she intends to one day because she was trained to fight fires
She resides on the East Bank Demerara and is quite pleased with her life stating that she chose to work hard to achieve her goals of becoming gainfully employed.
YAWONG VILLAGE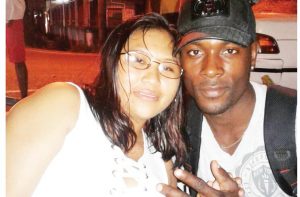 Even though she has adjusted to the city life, her heart remains in her hometown where she was born and raised and she often returns home to visit her parents and siblings.
Jacobs told the Pepperpot Magazine that back home in her village, the residents are all of the Patamona Tribe. She stated that with limited jobs, most of the residents take up farming or teaching in the village.
In fact, Jacobs' entire family is involved in cassava and watermelon farming. She stated that the days are very hot and the nights are cold but life there is serene and the place is so picturesque that it appears to be from out of a storybook.
Paramakatoi is home to about 3,000 residents. The villagers use mainly bicycles and motorcycles for transportation or otherwise walk to get from place to place. Sometimes, it could take hours to get from one place to another through rough and rugged terrain. Jacobs said that from her village of Yawong to Paramakatoi takes about an hour and a half of walking, a daily task most of the villagers are accustomed to.
MORE ABOUT LIFE
This firewoman related that her father is the pastor of the Mountain Foot Wesleyan Church back home, so they basically grew up in the church which was about half hour walk from their home in the valley.
Although framing is 'back-breaking' work, Jacobs and her siblings helped their parents on their farm.
She stated that they still plant watermelons, corn, eschallot and cassava, most of which they use for cooking and meat would be sourced from hunting.
Jacobs said the wild meat would be smoked for preservation and stored in 'salt bags' for cooking purposes since they do not have electricity or a refrigerator.
Jacobs remarked that some of the villagers have never visited Georgetown or even left their village because it is quite costly to travel via plane.
The village can only be accessed via aircraft from Paramakatoi to Ogle.
Nevertheless, she said that people are content with life there since "it is a place where the people make do with whatever they have and never complain and it is a place where life is just simple."