-Nagamootoo rubbishes Jagdeo's suggestion of letting UN manage local elections
PRIME Minister Moses Nagamootoo has rubbished Leader of the Opposition, Bharrat Jagdeo's suggestion of contracting the local elections out to international bodies like the United Nations (UN).
"It is ridiculous. The constitution provides for the manner in which elections should be conducted and there are laws like the Representation of People's Act which guide the conduct of the elections," said Nagamootoo in an invited comment on Saturday.
The Prime Minister said that except for the "half-hearted" complaint about the General Elections in 2015, there have been no other complaints about irregular elections since 1992.
International organisations like the UN, Commonwealth, United Kingdom (UK)'s Parliamentary group, Carter Center and so forth have been observing the local elections since 1992.
"That has been the pattern across the globe… it has been applicable since 1992 and for the last five elections we had since then," said Nagamootoo.
He believes that there is no merit to what Jagdeo said because Guyana boasts a multi-party parliamentary democracy.
"He is trying to portray that the country is under some military or totalitarian rule which is an insult to Guyana," said the Prime Minister.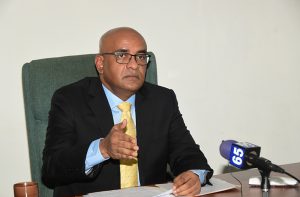 Jagdeo however believes that the conduct of elections should be something on the table during his discussions with President David Granger.
"Maybe we should contract this out… for instance we could get the UN because I think we can do it far cheaper than when we consider the sums of money that GECOM spends," said Jagdeo during a press conference at his Church Street Office on Thursday.
The assistance of international bodies, he said, would allow for credible elections with just oversight from Guyanese. "Guyanese would not be involved in the architecture but the machinery… that way we could agree to a credible list… this is just a suggestion and it could be a model but we need to discuss these things," said Jagdeo.
Guyana has been using a model which was established by the Carter Center. In its report on the 2001 elections, the Carter Center noted that the Carter Formula which was critical to the success of the breakthrough transitional elections in 1992 has allowed, in subsequent elections, party interests to interfere with effective electoral administration.
The Carter Center following the 2001 elections had stated: "In advance of future elections, Guyana should consider reforms that would reduce the politicised composition of GECOM and move toward an Electoral Management Body (EMB) with a structure, composition and operations that are more consistent with international good practices and obligations, thus ensuring the independence and impartiality of the EMB."
The center had made similar observations in the 2006 and 2015 elections. Additionally, the Commonwealth Secretariat, on the same issue, had recommended that "strong consideration should be given to ending the practice of having political appointees as members of GECOM."
President Granger in endorsing calls for GECOM to be reformed went one step further and added that commissioners should be appointed by the National Assembly. At a recent press conference at the Ministry of the Presidency, the President told reporters that the Carter Formula, which is in use, has "exhausted its usefulness."