MANY Hindu rituals are usually performed by male priests; however, two women in Region Three are breaking the traditional notions of the priesthood.
Dhanrajie Haimraj of Windsor Forest on the West Coast of Demerara, a humble Pandita (Hindu priestess) is one of this year's recipients of the National Medal of Service Award.
Haimraj is attached to the Windsor Forest Arya Samaj and is the only female on the West Coast of Demerara who performs all the rituals pertaining to the Hinduism faith, including weddings, funerals, sanskaars.
Pandita Haimraj is a strong advocate of discipline, female education, vegetarianism and a dress code for attending the mandir. She has become well-known and is now a household name in many parts of the country, especially on the West Coast of Demerara. During visits to the United States, Pandita Haimraj has received requests to officiate at Havans as well.
Born in 1964, Haimraj, fondly known as "Dolly", is the 11th of 12 siblings – nine girls and three boys — to parents Liloutie and Ramotar Rodwell.
Culture, discipline, moral education, respect and love were some of the founding principles instilled in Hamiraj by her parents. During her pursuit of an academic education, Hindi school and mandir activities also formed an integral part of her upbringing.
Married at age 20, to a budding Arya Samajist Priest, Haimraj, the union produced three children Vidya, Amrita and Subhash. The hunger for learning and service to humanity did not subside, even with the additional responsibilities of marriage and caring for children. Dhanrajie was engaged in several IDCE courses: Business Administration, C.B.R Courses – Caring for People with Disabilities, Wings on Words Programmes at School of the Nations, seminars, conferences and more importantly, religious camps with Dr. Satish Prakash, Missionary of the Arya Samaj USA.
Along with her children, Haimraj attended camps all over the country, where she was trained to perform Hindu rituals, sanskaars and recitation from the religious texts. She also has flourishing boutiques at home and also within the marketplaces of Leonora and Parika.
Being a spiritual person, she embraces that "contentment is the highest bliss" and as such, she works to keep her family together and happy by teaching them both spiritual and academic values.
TRAGEDY
In 2003, her family experienced one of the greatest tragedies in their lives. Her eldest child, Vidyawatie, passed away. A former top student of St. Rose's High School, Vidyawatie was excelling at the University of Guyana at that time. Months passed and with the outpouring of love and support from her family, villagers and members of the Windsor Forest Arya Samaj, where Vidya was a prominent member, transformation, determination and searching for answers through scriptures took precedence in the life of Pandita Dhanrajie Haimraj.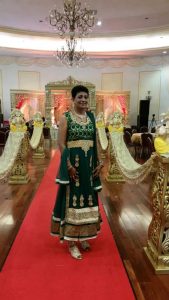 She emerged from the tragedy as a powerful source of comfort to all, especially to those who have experienced similar losses. Haimraj consoled thousands, giving them peace of mind, and engaged in tutoring children in Hindi Classes, Ramayana Chantings, Vedas and Bhagavad Gita. The pandita, along with her sister-in-law Indrowtie Buchana, who is also a pandita of the Gurukula in the USA, initiated a programme called "Arya Vidya Baal Divas" – A day set aside for children to showcase their knowledge and talent in the memory of her daughter. December 9 this year will mark 15 years since its existence; every year it features over 40 students and certificates and trophies are awarded at the end of every programme.
Like her colleague Pandita Haimraj, Hindu Spiritual Leader Baidwantie Shiwnandan Balgobin is also a Medal of Service recipient.
Born in April 1969 at Belle Plaine, Wakenaam, the 12 of 13 children, Balgobin completed her secondary education at the Essequibo Islands Secondary School and later began working at the institution as a typist clerk. She has worked there for the past 26 years and remains dedicated to her duties.
Pandita Balgobin was married in 1987 and is the mother of two children. Unfortunately, her husband passed away and she has been a widow since 2012.
REMARKABLE
Her religious achievements as a Hindu priestess are remarkable. At the age of six, she began attending the Belle Plaine Mandir, where she took Hindi classes and wrote all the levels of Hindi examinations and passed with distinctions. At age 23, she was offered a scholarship to go to India and further her studies in Hindi, but did not take up the offer because of family commitments. She opted to remain on the island and teach Hindi to the children.
After marrying, she moved to Melville, Wakenaam and began attending the Melville Mandir in 1988. There, she served as secretary, treasurer and is now the sitting president of the mandir. She has been the president for just over 12 years.
Dedicated to her calling, she has an outstanding record for her community involvement, especially in organising Phagwah and Diwali Melas, Indian Arrival Day celebrations and the famous annual motorcade which is eagerly anticipated by the entire island.
Baidwantie Shiwnandan Balgobin manages a mandir with over 200 dedicated devotees of Dharm and enjoys being a mentor to the younger generation. She believes in the motto, "Action thy duty, reward not thy concern."
As the recipient of a national award, she expressed her gratitude to her country for recognising her contribution to society. (DPI)