FOR artist Roland Taylor carving 'dead wood' from fallen trees into beautiful pieces of art is a way of life and it means even more to him because growing up, he used to hear stories about the way of life of his fellow Indigenous Peoples from his now- late grandfather and it is these stories that he incorporates into his pieces.
"I do it on wood, I reveal those stories told to me in my pieces. For me, carvings bring me the peace of mind I need to be complete because I feel so alive when I make pieces of art from 'dead wood'," he told the Pepperpot Magazine, while at his booth in the Heritage Village at the Sophia Exhibition Centre.
The father of six, who is originally from St. Cuthbert's Mission (Pakuri Village), presently resides at Rupertee, Annai where he is a teacher at the Bina Hill Institute Youth Learning Centre which provides vocational training for the youth of the North Rupununi.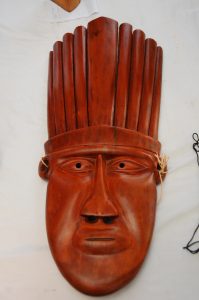 Taylor said it was not his first time visiting the Whirlwind Heritage Village. In fact, it is his third such trip to the city to showcase and sell his pieces.
Describing some of his pieces, the 45-year-old told the Pepperpot Magazine that the 'Chief Mask' represents the nine indigenous tribes. The large totem pole, he said, depicts the power of the medicine man.
Taylor stated that he would go into the farm/forest and take wood from fallen trees and bring them to life. He pointed out that he is against the cutting down of trees and only takes wood from fallen trees (dead wood) which he sources from the forest and converts into works of art.
His artistic journey started when he was just 13 years old and he used to watch his mother make unusual pieces. Later on, his brother mastered the art and he knew he had to step up and he quickly acquired that skill.
Taylor added that they have artistic blood in their veins because his mother was a gifted artist and she made some lovely pieces, so for him it was not too difficult to utilise his inherited skill.
He related that he left his hometown of St. Cuthbert's Mission (Pakuri Village) in search of work and he was employed at the Rock View Lodge at Annai until he became a teacher, but still practices his artistic passion in his spare time.
Being an artist takes a lot of patience and time and for Taylor, he has the time and his patience never runs thin whenever he is making a piece because once he is in a good mood, he is ready to finish that piece – whatever it is.
"Depending on my mood, a piece can take days to finish or it can finish very quickly because for you to make a good piece you must be well in body and spirit and also be at peace with yourself before you can execute that task," he said.
Taylor is a descendant of the Arawak tribe and he still believes in some of the stories that were told to him by his grandfather and with that in mind, it continues to be his motivator.
He told the Pepperpot Magazine that even 'dead wood' can be converted into something beautiful and that is how we need to look at life; by seeing the value of things and bringing them to life.
Taylor's pieces will be on display and sale at the Castellani House on September 13 at 19:00hrs and he is usually present at all the Rupununi events in October, annually.
Adrian Narine photos saved in a folder in Graphics as Heritage Month.