CHILDREN of the Albouystown and Charlestown communities in Georgetown on Saturday benefited from an outreach programme in observance of International Literacy Day at the Carmel Secondary School.
The Ministry of Education and the United Nations Educational, Scientific and Cultural Organisation (UNESCO) National Commission collaborated to make the event a possibility.
Regional Literacy Coordinator Collete Horatio congratulated the parents and students who attended the event.
She informed them that International Literacy Day is commemorated on September 8 each year and focuses on developing listening, speaking and reading skills.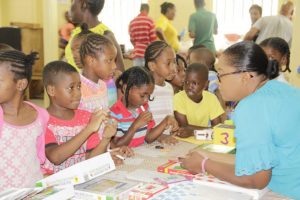 The theme for International Literacy Day 2018 is "Literacy and Skills Development."
Speaking to the children also was 14-year-old Youth Ambassador, Kezia Phillips, who encouraged other youths like herself to avoid peer pressure. Phillips also advised the youths that they should embrace education, since it will positively impact their lives.
Delivering the feature address was Secretary-General of the National Commission for UNESCO in Guyana, Patrice LaFleur. She said International Literacy Day is held to ensure citizens are aware of the importance of reading.
According to LaFleur, the theme focuses on youths and adults within the framework of life-long learning.
"The theme speaks to all of us. It speaks to children and adults, both male and female. When we speak about skills, the focus is on knowledge and the competencies for career choices. In Guyana, we want to ensure that every boy and every girl has access to education and can move from one level to the next.  We have to ensure that we keep our children in school," said LaFleur.
There are many challenges, she said, pointing out that the nature of jobs is changing because of globalisation. On that note, she urged parents to ensure that their children learn new skills that are aligned to Science, Technology, Engineering and Mathematics (STEM)