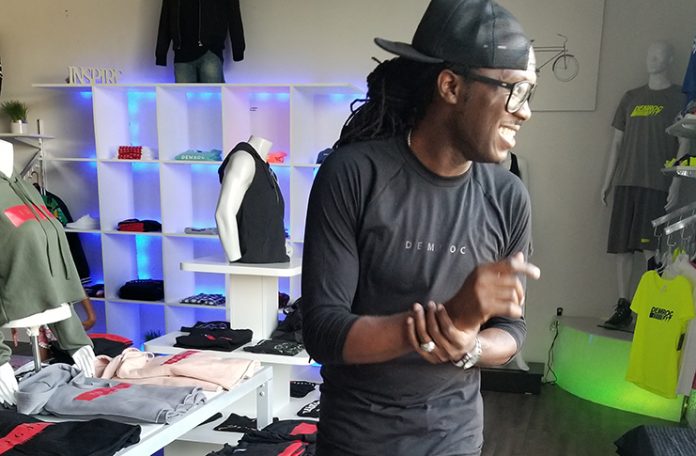 MIGRATING often changes people and in some cases make them forget the bounties of their homeland and even the memories which they once held close to them.
One person who refuses to forget where he came from is Shawn McAllister, who sincerely believes that people must maintain their identity even after migrating.
McAllister, who now lives in the United States of America (USA), said he had an amazing childhood in Guyana and for that, he feels the need to keep those great memories close to his heart.
"Displaying my country's name or image on a shirt gives me the greatest feeling, but even better to know that I designed it," said the young designer.
His fascination for computers/technology started when he was a child, but he really got to explore it when he migrated to the US back in 1997.
"I eventually got my certificate in Computer System Design in 2004. During that same year, I started finding computer graphics to be much more interesting, so I decided to learn it on my own," said McAllister.
That decision was the stepping stone to the establishment of his US-based clothing store, DemRoc Clothing Inc. He is the proud owner of the fully branded store which was opened on August 25, 2018.
Although he has used technology to complement his designs, McAllister was never intrigued by the latest gears and fashion.
"My style of fashion has always been very simple but clean cut. The discovery of the two brands Sean John by Diddy and Roca Wear by Jay-Z opened my eyes to a whole new world of what I want to look like when I leave the house," he said, adding that when he got the opportunity to create his own brand, he had a sense of what to pattern it after.
Getting to where he is today was not easy but although the challenges were not unusual, his biggest challenge was himself.
"The ability to believe in yourself is one of the greatest hurdles any entrepreneur will face. You cannot sell, teach nor promote anything to the best of your ability if you don't believe. The moment I understood what I was capable of, my entire perspective changed," he explained, adding that past challenges will always prepare persons for the new ones ahead.
McAllister also believes that the support from family members is important because self-motivation is often limited.
With continued support and commitment, he hopes to one day have a physical store in Guyana. While he does not have a physical presence in Guyana, he has been able to do business through shipping.
"I would sometimes send down t-shirts based on what's in demand to sell generally. At the end of the day when all is said and done, I would love to see DemRoc being worn throughout the entire country," said the young designer.
McAllister said he will continue to approach every day with optimism and not just to be motivated by fame and money because that can sometimes be the fastest way to failure.
He believes that the passion and love for what you do will always make room to take you to the next level. The blueprint for everything he does is to stay focused, invest time, remain humble and be patient.
Persons who wish to see his work could follow him on Facebook, Twitter and Instagram @demrocclothing.