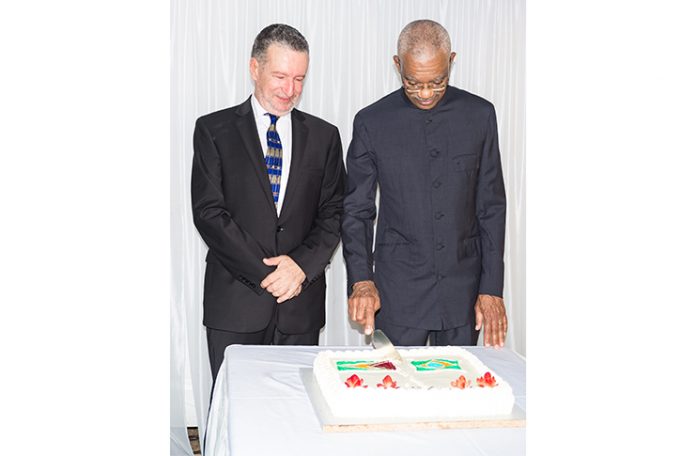 – Pres Granger declares at anniversary reception
PRESIDENT David Granger has affirmed that relations between Guyana and Brazil have never been better and stronger, on observance of the countries 50 years of bilateral relations and the 196th Independence Anniversary of Brazil.
Speaking at a reception Friday evening to mark Brazil's independence anniversary, President Granger said: "Brazil's independence celebration this year is auspicious; it coincides with the 50th anniversary of the establishment of formal diplomatic relations between the two states."
Noting also that "High-level engagements [between Brazil and Guyana] have intensified over the past year," President Granger said that among those engagements was his meeting Brazil's President Michel Temer on the margins of the 72nd Session of the UN General Assembly in September 2017, followed by his state visit to Brazil in December of the same year.
He said that during his visit to Brazil, key agreements were inked, among them the Complementary Agreement to the Memorandum of Understanding which creates the "Guyana-Brazil Joint Commission to Develop Infrastructural Projects", and the Complementary Agreement on Technical Cooperation for the Implementation of the project, "Technologies to Reduce the Effects of the Drought in Region Nine of Guyana".
The president also acknowledged other instances where ministers and other officials from the Brazilian government visited Guyana to strengthen relations between the two nations.
"Pace and intensity of contacts between these two neighbouring republics have been gathering momentum," President Granger said, adding:
"Guyana and Brazil relations have never been stronger; the prospects for renewed cooperation and collaboration have never been brighter."
And while Guyana and Brazil have been fortifying their long-standing friendship with each and every passing year, President Granger said that most importantly, "Guyana continues to work closely with Brazil to advance infrastructural integration by way of the planned paved Mabura Hill-Lethem Road."
Friday evening's reception was held at the residence of Brazil's Ambassador, Lineu Pupo de Paula, who shared with his guests Brazil's commitment to the advancement of the road project, and similar sentiments as President Granger about the deepening of ties between the two nations.
Besides affirming Brazil's unwavering support for Guyana's territorial integrity, Ambassador Pupo de Paula seized the opportunity to announce that pretty soon,
communities in Region Eight (Potaro-Siparuni) will benefit from the creation of a few artesian wells, and that some 64 Guyanese public servants will be receiving specialised training in their particular fields. This is in addition to the pre-existing agreements the nations have, particularly in the areas of health, infrastructure and defence.
Guyana-Brazil relations, as noted by President Granger, are founded on mutual respect for each other's territorial integrity and sovereignty on the borders and international law, and the maintenance of international peace and security.
"I would say that over the last 50 years, Brazil has been a faithful and solid supporter of Guyana's territorial integrity and sovereignty, and we are very proud to have a neighbour like Brazil, which adheres to the rule of international law and for peace in this continent," the president said.