– Teachers' Union, Education Ministry agree to arbitration
– teachers to resume duties today
TEACHERS are expected to return to their classrooms today after the Guyana Teachers' Union (GTU) quit their strike on Thursday afternoon following agreement by the Ministry of Education (MoE) to take the pay dispute to arbitration.
The GTU has guaranteed full resumption of teachers by Monday, according to the terms of resumption agreement signed between GTU and the MoE.
"From day one we insisted that this matter should go to arbitration and we've achieved that today, much to the pleasure of our members," announced GTU President Mark Lyte as he exited what was the last conciliation meeting between the MoE and GTU.
"The union will be calling the strike off with immediate effect. For those teachers who can resume duty [today] they will, but we assure that full resumption will be on Monday. The GTU wishes to thank you [the teachers] for showing solidarity and standing behind us through this struggle and today we are happy that we are emerging as one group of people with determination to say we deserve the best."
After a three-hour meeting in the Department of Labour boardroom, the GTU executives emerged in bright smiles and were met with chants of celebrations from a large gathering of teachers outside as they announced that the strike was off since their demand for arbitration was acceded to.
Other terms as part of the resumption agreement guaranteed no loss of pay, loss of seniority or victimisation of any teachers who participated in the almost two-week strike.
The GTU and MoE will now meet again next Tuesday to work out the terms of reference for the arbitration process, which is expected to be presided over by a panel comprising a mutually agreed upon chairman, a representative from the GTU and a representative from the MoE.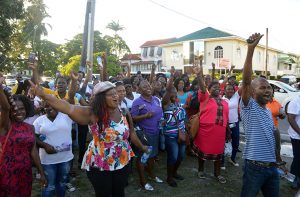 The outcome of the arbitration process will be final. According to Lyte, when the panel is put together, the GTU will be asking for a multi-year agreement with the MoE.
"The matter is now being rolled into the hands of arbitrators who will take a lot of things into consideration and a decision will be made which will be binding on both sides," Lyte told the teachers.
"So I want you [teachers] to know it is out of the hands of the GTU, and out of the hands of the government, and into the hands of the three arbitrators, they will look at cost of living and every other thing to determine what is a livable wage for teachers."
GTU General Secretary Coretta McDonald encouraged the teachers to put their trust in the arbitration process.
"Today, I think history has been created again where we have been able to exercise democracy in a country that is supposed to be fair. We are trusting that coming to the end of that [arbitration] process, our teachers will emerge as victors in this entire process," she said to loud applause.
McDonald added: "We weren't into this for GTU to win and somebody else to lose, we were in this for a win, win on both sides. Because we understand that education is everyone's business and today we have decided on a way forward and that is arbitration."