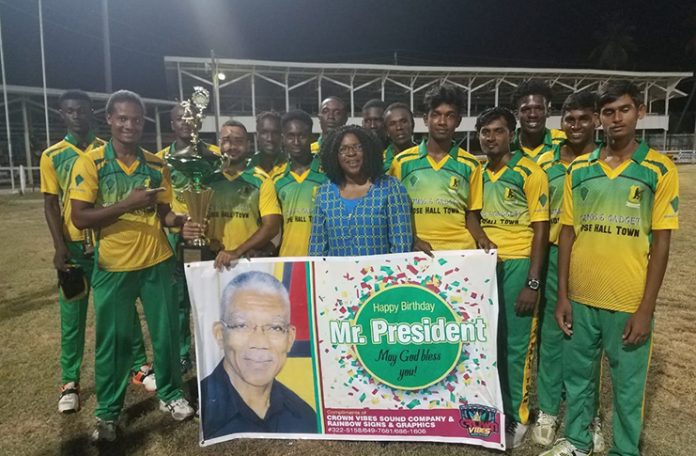 ROSE Hall Town (RHT) Gizmos & Gadgets on Wednesday came out determined to defend their below-par score of 62 from ten overs and defended it they did, through brilliant fielding, hostile fast bowling and tight spin bowling.
The end result was a victory by 16 runs over Albion in the final of the Berbice Cricket Board (BCB)-organised RHTYSC Patron Green Economy 10/10 cricket tournament.
This is the first time in over three years that a First Division tournament was hosted in Berbice by the BCB.
The entire match was played under lights at the historic Albion cricket ground in front of a fair-size crowd, despite being played mid-week, due to the overwhelming schedule of the BCB.
RHT Gizmos & Gadgets won the toss and immediately elected to bat first on a slow track.
The Albion Cricket Club used their home track experience to their advantage and restricted the visitors' scoring.
After losing wickets early, the RHT side eventually limped to 61 for 7 off their allotted 10 overs with National Under-19 player Kevin Sinclair and Kevlon Anderson top-scoring with 14 and 19 respectively.
Bowling for Albion Cricket Club, Kevin Umroa (2 for 6) and Gudakesh Motie (2 for 17) were the best bowlers while Jonathan Foo and Gourav Ramesh each took a wicket.
Albion, on the other hand, found things harder when it was their chance to bat, with only Kevin Umroa reaching double figures with 11.
Clinton Pestano, Eon Hooper. Kevin Sinclair and Keon Sinclair each took one wicket to support Junior Sinclair who snapped up 3 for 7 in a super bowling effort.
Earlier, Rose Hall Canje defeated favourites Blairmont to cop the third prize of $50 000 and a trophy.
President of the BCB and Secretary/CEO of RHTYSC MS, Hilbert Foster hailed the Patron's 10/10 Tournament as an resounding success and stated to loud applause that Berbice Cricket was on a path of reclaiming its former glory.
The Patron's Tournament was the second to be completed in 2018, out of the 22 that the BCB has committed to hosting in 2018 and Foster praised the spirit of cooperation and discipline that have been the hallmark of the 2018 season so far.
Junior Minister of Public Health, Dr Karen Cummings, stated that she was very impressed with the discipline of all four teams and praised both the BCB and the RHTYSC for organising the tournament in honour of His Excellency, President David Granger's 73rd Birth Anniversary.