POLICE have arrested five men after a bag containing guns and ammunition along with several other items were found in a car at Samatta Point, Grove, East Bank Demerara on Thursday morning.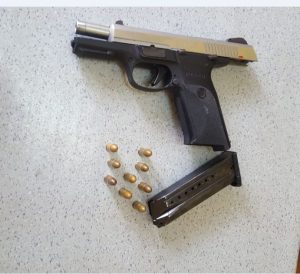 According to police, an intelligence-led operation, commanded by a Senior Police Officer, resulted in the interception of a white Toyota Fielder Wagon at Samatta Point around 09:30hrs on Thursday morning with five males ages 27, 28, 29, 30 and 33 years respectively. The men reside on the East Bank of Demerara.
Police said a search of the men revealed nothing. However, in the vehicle, the ranks found a red and black haversack hidden under the back seat, containing several items including an unlicensed .45 Colt Pistol with four live rounds, an unlicensed 9mm Ruger Pistol with nine live rounds, a pair of 'paste-on' number plates, a black jersey, a knife, a camouflage cap, a door lock and a screwdriver.
The suspects, all known characters, are being processed for court, the police noted.