A 23-year-old constable attached to the Police Impact Base was on Thursday charged with driving under the influence of alcohol.
The cop, Ryan Persaud , appeared before City Magistrate Marissa Mittelholzer on Thursday and pleaded not guilty to the charge which alleged that on September 1, 2018 at Nelson Mandela Avenue he drove minibus PVV 4652 while being under the influence of alcohol.
Persaud of Gordon Street, Kitty is currently under investigation in relation to the death of 23-year-old Akeemo Anthony who was struck down and killed by a Guyana Police Force minibus at Mandela Avenue last Saturday night. Persaud was allegedly driving the said vehicle at the time.
The court was told that Persaud's blood alcohol level was 91 micrograms while the legal limit is 35 micrograms.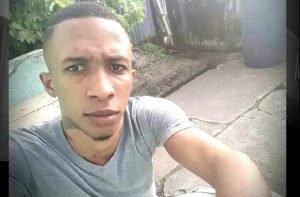 Attorney Eusi Anderson during an application for bail told the court that his cleint is the father of a young son and is the sole bread winner of his family.
Anderson added that his client is being investigated in another matter in relation to a fatality on the day in question.
Police prosecutor, Inspector Layne made no objection to the attorney's application but requested that the accused lodge his passport. Magistrate Mittelholzer released Persaud on $25,000 bail with the condition that he lodge his passport at the court. The matter is adjourned until October 11.
Anthony , a father of one, reportedly died on the spot at around 23:30 hrs on Saturday night after he was struck down by the minibus that was driven by an allegedly intoxicated constable.
Anthony , of Lot 338 East Ruimveldt Housing Scheme, Georgetown, was reportedly hurled into a ditch on Mandela Avenue, in the vicinity of 'Back Circle' near East Ruimveldt.