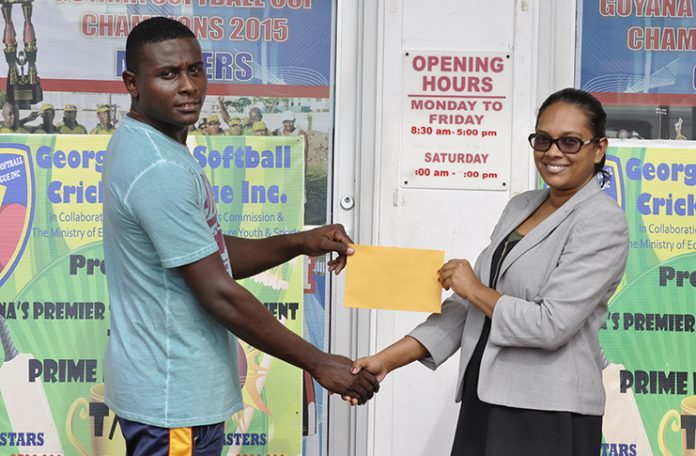 ELEGANT Jewellery and Pawn Shop has thrown its support behind the second edition of the Prime Minister's T20 Cup.
This partnership was confirmed recently when the entity presented a cheque to the organisers, the Georgetown Softball Cricket League Inc. (GSCL), at the Regal Stationery Computer Centre, 69 Seaforth Street, Campbellville.
Devon Callendar of Elegant Jewellery and Pawn Shop, who made the presentation to secretary of the GSCL, Telesha Ousman, said the business entity is pleased to be a part of the tournament for the second consecutive year.
He added that softball cricket is a family-oriented sport, and he is calling on the fans to support the game.
Ousman expressed gratitude to the sponsor and said that the tournament is expected to attract some of the top local teams and also involves teams from Canada, New York and Florida.
Ousman pointed out that lighted bails will be used in the finals and no entrance fee is required.
The tournament will be played in the All-Stars and Masters categories. The winning team in the All-Stars segment will take home a trophy and $700 000 and the runners-up a trophy and $100 000, while the champion side in the Masters division will pocket a trophy and $600 000 and the runners-up a trophy and $100 000.
The GSCL secretary indicated that Florida/Guyana Hope, one of the teams in the tournament, will present US$20 000 to the Guyana/Florida Hope charitable organisation during the competition which will commence on October 19 and conclude on October 21 at the Everest Cricket Club ground.
The first 12 teams to register in the All-Stars category and 16 in the Masters division will be accepted.
The venues identified for preliminary matches are Everest Cricket Club, Muslim Youth Organisation, Gandhi Youth Organisation, GNIC SC, DCC, Police, Malteenoes SC, YMCA and Ogle.
Live crossover band and cheerleaders will provide added entertainment during the finals while there will be lots of giveaways for the fans.