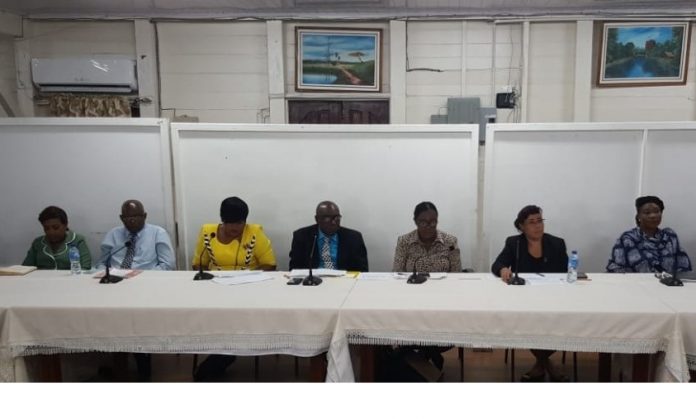 …says conciliation process  in talks with GTU is "necessary"
Education Minister , Nicolette Henry is encouraging students to turn out to school on Tuesday even as the ministry continues to put systems in place amidst strike action by teachers across the country led by the Guyana Teachers Union (GTU).
While speaking at a press briefing at the National Centre for Education Resource Development (NCERD) on Monday night , Henry , who was flanked by Chief Education Officer Marcel Hutson and other top ministry officials told members of the media that the ministry is awaiting a call from the  Ministry of Social Protection following stalemates in  previous meetings with the GTU.
Henry said that the two parties must undertake the process because it is a "necessary step" if both parties are working along with the collective bargaining agreement.
The Union is insisting that it has lost faith in the conciliation process she said , noting that  the due process is required. She said both parties do not have the opportunity to "cherry pick" the process.
The Education Ministry is working to keep school doors open and according to the minister, the government agency is working with parents, regional officials and other officers to ensure the contingency plan works.
Asked how long the Education  Ministry will be able to  sustain the contingency plan , Henry said when operating under a situation that is not normal, it will put a strain on the system but she noted that the government  is committed to ensuring that students remain in the class room.
It was noted too that the ministry has not received any update from the Ministry of Finance as regards the additional funds being requested by the GTU.
Hutson told reporters that persons are volunteering but he noted that the ministry will into consideration rewarding them for their efforts. He said volunteering is done globally but based upon the services provided a cost could be provided.
Teachers who have been placed at the different schools are competent teachers, Hutson said . He said they possess at least 5 Caribbean Examination Council (CXC) subjects to enable them to enter the Cyril Potter College of Education (CPCE). Henry said the 40% requested by the GTU translates to in excess of G$4B.
---
Below is a breakdown of the situation regarding school operations on Monday :
Region 1-72 schools, 5 schools closed, 67 open.
Region 2: 89 schools open, 0 closed.
Region 3: 124 schools, all open.
Region 4: 132 schools, all open.
Region 5: 75 schools, 2 schools closed.
Region 6: 142 Schools, 3 closed.
Region 7: 35 schools, 1 closed.
Region 8: 26 schools, all open.
Region 9: 83 schools, 2 closed.
Region 10: 60 schools, 11 closed.
Georgetown 91 schools all opened
---
Statistics regarding absenteeism by teachers on Monday:
REGION 1: 33
REGION 2: 21
REGION 3: 43
REGION 4: 34
REGION 5: Not available
REGION 6: 276
REGION 8: 3
REGION 9: 36
REGION 10:400
Georgetown :219