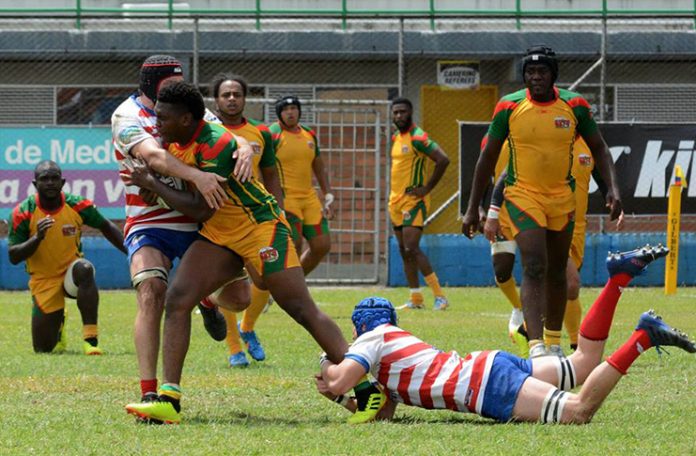 … Gonsalves optimistic of victory today
HAVING suffered heavy defeats in their two previous games, Guyana's 15s rugby team will look to close out their campaign at the Americas Rugby Challenge to against Mexico on a winning note.
Team captain Ryan Gonsalves believes that the results against Colombia (71-7) and Paraguay (86-7) are being used as building blocks for the Green Machine, as they're more popularly known. They will be looking to correct their mistakes against familiar foes, Mexico.
Gonsalves labels the team's showing in Colombia as 'tough' and 'disappointing', but added, "Basically our error is in the defence, we gave away too many penalties and we just didn't play our pattern in the first, second or third phase in defence."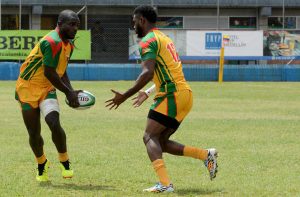 Asked about the factors that contributed to the team's lacklustre performances, the scrum-half pointed out, "It comes back to individual discipline, because at this level, if you make a slight mistake, you'll pay for it. We are not far away in these games, the scoreline is different from what actually happens in these games but we have to show what we are worth and have to bring our game against Mexico on Saturday (today)."
Not since losing 19-23 to the USA (South) last year in the final of the Rugby Americas North (RAN) 15s title at the National Park, have the Green Machine played the game's longer format.
Gonsalves was clear in pointing out that "the South American standards are high, but in the games played we are not far away. The scoreline is not far away. We just have to play more games at this level.
"The game plan (today) is to get our acts together, reduce the errors we've made in the last two games, get our structure right and put points on the board."