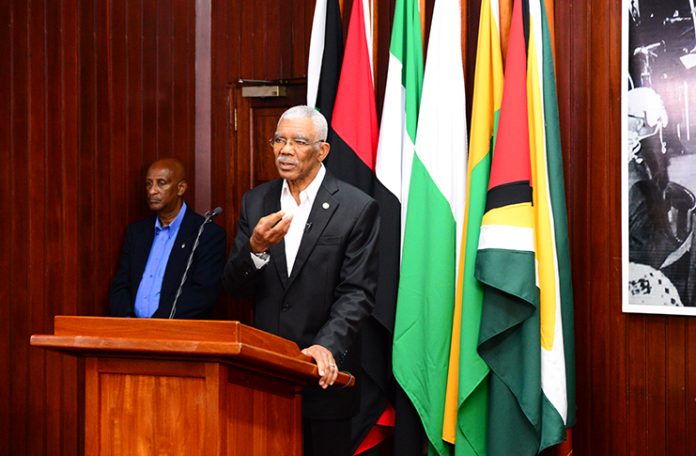 …President says some budgetary programmes to be cut
…calls strike action premature
President David Granger said his Government is actively searching for alternative sources of finance to meet the needs of teachers.
His announcement comes at a time when the Guyana Teachers' Union (GTU) is threatening to up the ante over failed salary negotiations with the Education Ministry, which has already resulted in many teachers embarking on strike action-a move described by the President as premature. But the President is warning against the industrial action, stating that there is no need for such extreme measure. In responding to a series of questions on the issue, President Granger, assured that the Social Protection Ministry is working with the Ministry of Finance to determine whether additional funds can be secured. "The Ministry of Social Protection, which has responsibility for labour and industrial relations, is in touch with the Ministry of Finance to see whether additional funds could be found from other heads of Government expenditure in order to move closer to the goal of providing sufficient funds to the teachers," the President told reporters at a news conference held at the Ministry of the Presidency.
Hinting that finances may very well have to come from funds allocated to other ministries for various developmental projects and initiatives, President Granger said such was the case when monies had to be secured to pay sugar workers their severance earlier this year. In January, Government had cut ministerial budgets in an effort to pay thousands of sugar workers their severance pay. During the initial stage of the negotiation with GTU, the Government, through the Education Ministry, proposed $700M to facilitate salary increases and $200 million to address de-bunching for 2018. But GTU rejected the proposal, and instead proposed an across-the-board increase in salary of 40 per cent for 2016 and incremental increases of five per cent in 2017, 2018, 2019 and 2020, respectively, to be granted to all categories of teachers and teacher educators.
Extreme action
The situation is at a deadlock as GTU this week turned down the government's offer for conciliation talks. The union is encouraging its members not to report for duty when school reopens for the new Academic Year 2018/2019. But President Granger is of the strong opinion that industrial action is an extreme measure which should be applied as the last resort. "Before we reach to the stage of a strike, there should be some form or mediation if mediation fails then we should go to arbitration," he told reporters.
"But I think it is premature to speak of a strike at this stage, and we are still, on the government side, aiming at mediation. I do not believe that mediation has failed," he added.
Reiterating that his Government has been continuously trying to meet the needs of teachers, President David Granger said it was following deliberations at the level of Cabinet on the report submitted by a High Level Task Force, that the initial sum of $700M was proposed to increase salary for teachers. The task force was put together last November to address salary negotiations and other issues affecting teachers. The matters addressed included non-salary issues, allowances, de-bunching and matters highlighted during the Commission of Inquiry (CoI) into the education sector, in addition to the GTU Multi-Year Agreement.
Deficiencies
But from all indication, the President and his Cabinet are dissatisfied with the report delivered by the High Level Task Force. According to him, several deficiencies were detected when the report was examined at the level of Cabinet. "It was because of those deficiencies that there was a delay in engaging the union because there were some critical questions that were not answered. I do not believe that it in its existing form it ought to be released to the public. I think they ought to go back to the drawing board, and recertify some missing information and correct some deficiencies," President Granger explained.
He noted that critical information was not supplied by the high level task force, and therefore it was impossible to arrive at certain figures and certain conclusions. It was the task force which had proposed an across-the-board increase in salary of 40 per cent for 2016 and incremental increases of five per cent in 2017, 2018, 2019 and 2020, respectively, to be granted to all categories of teachers and teacher educators – a position subsequently taken up by GTU.
While GTU is pushing for a multi-year agreement to be reached, President Granger said it is important to resolve this current impasse in an effort to move forward. "At this stage the immediate need is for us to conclude an agreement which would see the teachers calling off the strike and entering into long term negotiation for that multi-year," he posited while noting that though his Government has not embarked on a multi-year negotiation with GTU, it is something that is desirable. "I personally feel that it is desirable to have a multi-year agreement," he posited.
Trainee teachers
If there is no breakthrough in the matter, the Education Ministry has developed a contingency plan which will see trainee teachers who are still enrolled at the Cyril Potter College of Education (CPCE), or have just graduated enlisted to teach in the schools as well as retired teachers.
Though this would not be a favourable situation, the President said it would become necessary if teachers within the current school system down tools heeding to the call by their union.  "The resort to retired teachers or student teachers is undesirable, we would prefer to have the regular teachers in the classrooms…but it is the only way we could ensure that our students, receive continuous education, those who are preparing for exams next year, we would prefer to have school opened for them," he explained while noting that it is a temporary situation. President Granger also reminded that over the last three years, the lowest paid teachers have been beneficiaries of pay increases along with other public servants.