INGRED Wilson, an elderly woman living in Lamaha Park, was attacked on Sunday morning by three dogs. Though she has received treatment, her recovery is very painful.
"We went to the doctor (on Tuesday) and the doctor said she got to exercise the mouth to speak and get things to chew before the mouth comes back as normal," Cherry Ann Mayers–Wilson's daughter–told the Guyana Chronicle.
But there is more to Wilson's story than just this. In fact, she received some 70 stitches– many evident on her face and mouth– and has bite marks hidden under bandages across her body.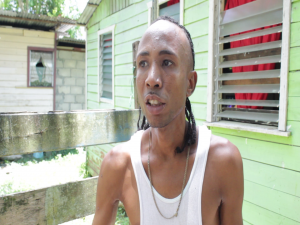 As Ingrid was unable to speak, Cherry shared that the woman is required to visit the doctor again next week to remove the stitches. It will take another month, however, for the elderly woman to recover.
The daughter was unable to recount what transpired that fateful Sunday morning, since she was at work then, but John Grant, Wilson's neighbour and longtime friend of her son, witnessed the attack and came to the woman's rescue.
Grant told the Guyana Chronicle that he was standing on the road when the woman walked past him. He lives close to Ingrid's son, whom the woman was going to see.
"When she reach the house two doors away from me, the dogs–three dogs– run out and hold on on she," Grant recalled.
As the dogs attacked the woman, she fell to the ground and they continued their attack on her.
"I was the only person out to rescue her. I run and help she out and that was it," the young man said. "After I run to the rescue, the dogs them run back inside."
Thereafter, Ingrid–bloodied and bitten–was taken to the hospital.
The owner of the dogs shared that her older children went to the doctor and the relevant authorities with Ingrid and her family.
Giving her own account, Bayley said: "This happened Sunday morning around 06:15; the lady was passing and probably one of my children left the gate ajar and the dogs ran out and bit the woman."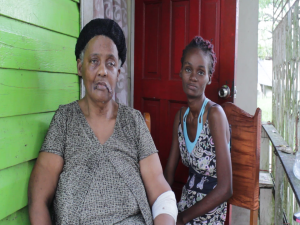 She, however, stressed that both parties went to the relevant authorities and according to Bayley, "They [Wilson and family] said they don't want a story and I said I don't want a story… and I compensate her with $200,000."
Cherry Ann Mayers confirmed this by saying: "She [Lawrence] compensate us the money, because my mother said she don't (sic) want a court story to go up and down; (instead) she just wants to take her treatment and done."
Right now, the woman can only consume liquid food through straws and only just regained her ability to move around her fingers.
"She catch sheself from that day to now," Mayers said, adding that the woman is recovering, albeit painfully.