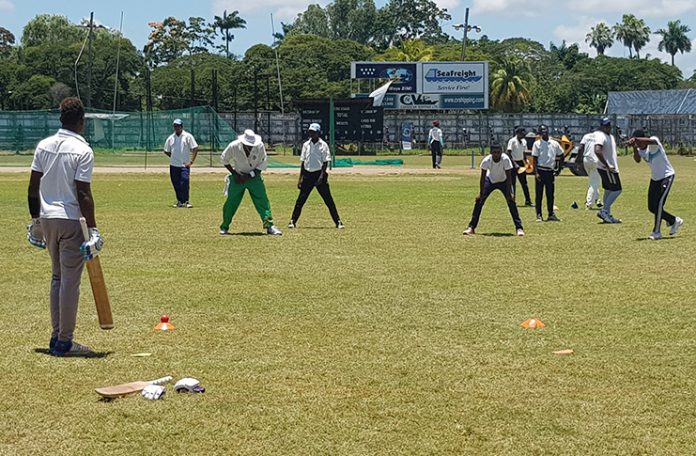 THE Georgetown Cricket Association (GCA), in collaboration with Guyana Jaguars captain Leon Johnson, yesterday completed a successful one-day coaching clinic, held at the Georgetown Cricket Club (GCC) ground.
Forty-eight elite young cricketers from clubs affiliated with to the GCA, took part in the day's programme, where they were provided with hints and tips to improve their game, especially in the batting, bowling and wicket-keeping departments, by a team of fully-qualified, highly skilled coaches and former cricketers who delivered unparalleled cricketing experiences to all the participants.
Technical Director of the programme, former Guyana batsman Mark Harper, said the one-day programme provided an opportunity for the players to both work seriously on their batting, bowling, and wicket-keeping skills as well as their fitness levels, through a specific and carefully planned programme.
Harper, who played 42 First-class games for Guyana gave advice on grips and balance at the crease and the keys to hitting cleanly through the off-side. He also delivered tips on how to improve run-scoring, how fluidity of movement was more crucial than extravagant footwork and the dangers of moving too far across the stumps, among other batting drills.
Former Guyana and  West Indies players, off-spinner Roger Harper and fast bowler Reon King, demonstrated the fast bowling drills to the youngsters, including a run-up that is comfortable, delivery stride and how best to target the top of off-stump.
Meanwhile, former Guyana and West Indies off-spinner Clyde Butts gave tips to the young spinners, as well as the wicket-keepers.
Johnson, Guyana's most successful First Class captain, said the one-day programme is a way of giving back to clubs affiliated to the GCA.
"It's something I've wanted to do for a while, a form of giving back to clubs in the association that I've grown up playing for when I was younger. I was given the same opportunities to learn and develop, so it's only right that I give young talented players those same opportunities," the out-of-favour West Indies middle-order batsman reckoned.