– as part of contingency plan to deal with planned strike
THE Ministry of Education (MoE) has a contingency plan in place to ensure that instructional time is not lost, should the strike planned by the Guyana Teacher's Union (GTU) progress into the start of the new school term.
A team from the MoE travelled Monday to Regions Five (Mahaica-Berbice) and Six (East-Berbice-Corentyne) to address parents and teachers at the Berbice High School in New Amsterdam, and at the Lachmansingh Primary School at Bush Lot, West Berbice.
Chief Education Officer (CEO) Marcel Hutson told the Guyana Chronicle: "It is so important for our children to receive the best possible education, and at the MoE we are keen on ensuring that systems are in place so that our children can be taught, and taught properly."
With this in mind, he said that the ministry has created a contingency plan to ensure that instructional time is not wasted should the GTU strike, which began on Monday, persist into the new school term.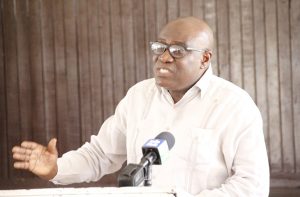 As part of these backup plans, Hutson detailed that senior teachers who are still enrolled at the Cyril Potter College of Education (CPCE), or have just graduated will be enlisted to teach in the schools. He also said that the MoE is engaging teachers who have retired to lend a hand.
And with educational officers on the ground, Hutson said that every effort is being made to ensure that the curriculum will be delivered as is required.
"We are on a developmental path, and we want to maintain that path," he said to parents and teachers at the Berbice school. "We at the MoE cannot afford to shut this system down."
He sought to clarify, too, that the strike action does not mean that the school system will be shut down, and called upon the members of the audience to send the children to school come September 3.
But in spite of being assured that contingency plans are in place, parents still wanted to know whether or not raised concerns that their children will be supervised should they attend school.
Hutson tried to allay those fears, saying that the ministry is cognisant of all the concerns they raised and is working on preventing them from happening. But should it come to the worse, he said that parents will be alerted in due course.
With just a few months to go before national and regional examinations, Hutson stressed, "We cannot afford to have a single day lost."
Minister of Education, Nicolette Henry, who led the team in engaging parents and teachers, shared, "It is my own belief that the interest of the people should come first."
She contended that the teachers, like all other public servants, do deserve benefits, but those can only be given in accordance to what the government can sustainably afford.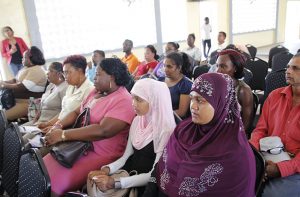 From the way parents and teachers were grilling the minister and her team, it was clear that not everyone was well informed about the engagements held between the MoE and GTU.
It was therefore left to the minister to clarify that the two bodies were able to agree on many of the Union's demands for teachers, but that the major problem lied in salary increases and debunching money.
She urged that they rest assured that school will continue as per normal when the new school term starts next Monday.
And based on waht she's seen from her visits to the schools so far, Minister Henry said, "I've seen a lot of the preparatory work completed, and a lot of the parents did indicate that they were going to send their children.
"And a lot of teachers indicated that they were going to be at work, so that's a hopeful sign."
She reminded her audience that it takes a village to raise a child, and all hands must be on deck to ensure that all children get the best education.