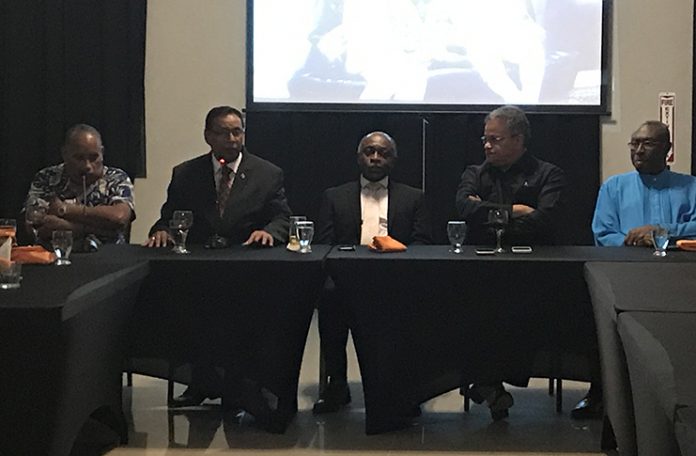 VICE-President and Minister of Foreign Affairs, Carl Greenidge, has urged the private sector to exploit fully, the commercial opportunities which have resulted from the deepened bilateral and multilateral political relations with several key countries.
At a dinner hosted by Roraima Airways in honour of Guyana's Ambassador to Cuba, Halim Majeed, Minister Greenidge said that much work still needs to be done by both the government and private sector to spur production and expand exports.
"The private sector, on its part, needs to better prepare itself to meet phytosanitary and other quality requirements of international markets and to aggressively pursue niche markets for value-added products. So the forestry sector should not be looking only at exporting raw lumber, but also be looking for markets for high-end wooden furniture where the emphasis would be more on quality than on quantity. Here is where we need to have our engineers and designers come up with creative products for which there are niche markets that carry good prices," said Greenidge, who was at the time performing the functions of prime minister.
Citing Cuba as a prime example, the Foreign Minister pointed out that there is a market with significant demand for a wide range of products which Guyana could take advantage of due to the deep political relationship that exists between the two countries. He said Ambassador Majeed's efforts, which have resulted in the export of increasing volumes of Guyana's rice to Cuba and brought about ongoing negotiations with Central American nations about importing products from Guyana, represent his ministry's programme to pursue vigorously, economic diplomacy.
But he made it clear that his ministry's economic diplomacy efforts have to be complemented by the efforts of the private sector to be reliable, quality oriented and innovative. He also stressed the importance of the need for strengthening the relationship between government and the private sector adding that his ministry remains committed to this objective.
Earlier, newly elected Chairman of the Private Sector Commission (PSC) Desmond Sears, who was among the speakers, pointed out his organisation's renewed efforts to increase collaboration and strengthen the relationship with government. Sears praised the active approach of Ambassador Majeed in seeking markets for Guyana's products in Cuba and the other countries to which he is accredited and encouraged the foreign ministry to have all its diplomatic missions intensify their efforts to promote trade and investment.
In welcoming guests, Roraima Airways Chief Executive Officer Capt Gerry Gouveia pointed to the rapidly expanding Cuban shopping tourism in Guyana which he said "brings more than 1000 Cubans here each week who each spend an average of $3,000 (US) during each visit. "This is a significant contribution to the Guyana economy and I urge the government to do all it could to encourage Cubans to continue to see Guyana as a prime shopping destination," Gouveia said. He also spoke of the need for non-stop air service between the two countries.
Director-General of the Guyana Civil Aviation Authority (GCAA) Lt Col. (rt'd) Egbert Field, pointed to the need for bilateral air service agreements between Guyana and other countries whose airlines are interested in serving the Guyana market. In this regard, he suggested that Guyana's diplomatic missions abroad play a role in initiating discussions with governments in pursuit of this objective.
DDL Chairman Komal Samaroo, referred to his recent visit to El Salvador along with Ambassador Majeed which he said provided a great opportunity for him to better understand the markets there and in other Central American countries.
"We have got to focus not only on product diversification, but market diversification as well. There seems to be a good network of Latin American diplomats in Cuba which Ambassador Majeed is using as a sort of hub to open up possibilities for Guyana's exports. South and Central American countries are good markets for some of the products we currently produce and others that we can produce. We have got to diversify our manufacturing to take advantage of these new markets to which we are being afforded access," Samaroo said.
Ambassador Majeed told the gathering that he is actively engaged in seeking markets for Guyana's products in the countries to which he is accredited and even farther afield through the network of ambassadors in Cuba. He stressed the need for suppliers to be reliable so as to avoid creating a negative image of Guyana in terms of its ability to be a reliable supplier.
He invited the local private sector to participate in this year's Havana International Trade Fair to be held in late October and to join a delegation which is being put together to visit the free zone in Panama early next year.