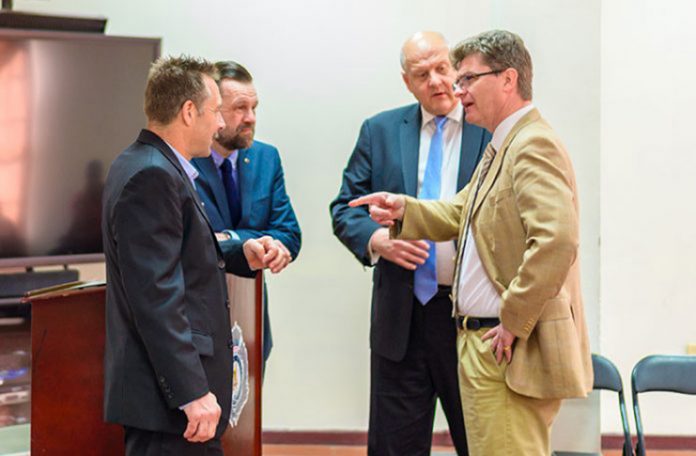 – Greg Quinn gives SOCU thumbs up in spite of naysayers
THE Special Organised Crime Unit (SOCU) has come in for some high praise from none other than British High Commissioner Greg Quinn, who said the agency is doing an extraordinary job.
This he did on Friday in spite of widespread criticism about SOCU's perceived inability to make any prosecutions despite the findings of the forensic audits.
Minister within the Ministry of Finance, Jaipaul Sharma, while debating the National Payments System in the National Assembly mid last month was so incensed over the situation he at one point asked what was the use of having SOCU, when it was not fulfilling its mandate.
On Friday during a press conference at his Bel Air Gardens residence, High Commissioner Quinn effectively put the matter to rest saying that contrary to popular opinion, SOCU is not a prosecutorial unit but rather an investigative arm of the Guyana Police Force (GPF).
With strong support from Irish Financial Investigations adviser, Dr. Sam Sittlington, SOCU has been conducting a range of investigations, High Commissioner Quinn said, adding that once investigations are completed, the reports are handed over to the relevant authorities such as the Office of the Director of Public Prosecutions (DPP).
"It is not for SOCU to decide when a prosecution should go forward," he told reporters in response to a question from the Guyana Chronicle.
He said that in keeping with UK standards, SOCU, under the guidance of Dr. Sittlington, has conducted a range of investigations.
"I think they are putting together cases based on how we would do them in the UK, and or using standards of evidence which we would use in the UK," he said, adding:
"So that investigative side, I think, is working well."
He did say, however, that he has no idea what is preventing the cases from reaching the country, and that that question might better be answered by the DDP.
Forensic audits were conducted on several government agencies and entities including the National Communications Network, One Laptop Per Family Project, Guyana Office for Investment, Environmental Protection Agency, E-Governance Unit, Scrap Metal Unit, New Guyana Marketing Corporation, National Insurance Scheme, Passport Office, Guyana Gold Board, Cheddi Jagan International Airport, and Guyana Oil Company among others.
While the auditors who conducted the audit did not have the authority to go into any account or make arrests, Minister Sharma had expressed the view that the information gathered was sufficient, and persons should have been prosecuted.
It was reported that at least two joint charges have been filed against several former managers and former directors of the Guyana Rice Development Board for failing to enter information in a ledger.
Also, months after SOCU had completed its 'Pradoville 2' investigation, the Unit was able to institute charges against former Finance Minister, Dr. Ashni Singh, and former Chief Executive Officer (CEO) of the National Industrial and Commercial Investment Limited (NICIL), Winston Brassington.
The two were jointly slapped with three charges of misconduct in public office in relation to three plots of State land.
As things now stand, SOCU provides reinforcement to the Anti-Money Laundering and Countering the Financing of Terrorism (AML/CFT) Act, in that it aids efforts to ensure that money acquired through illicit means is not being placed in officialdom.
In April, an anti-corruption training course facilitated by SOCU, the over 30 participants drawn from within its ranks, the Customs Anti-Narcotics Agency (CANU), the State Assets Recovery Agency (SARA), the Criminal Investigation Department (CID) and the Financial Intelligence Unit (FIU) were told that they need to take their responsibilities seriously.
Dr Sittlington, during that training session, said it is important for investigators to be able to conduct thorough investigations into fraud, bribery and corruption cases.
The programme, he said, is not only intense, but oftentimes investigators are bogged down with looking at PowerPoint presentations or other documentation, but that nevertheless they're given the opportunity to think outside of the box and look at ways in which they can solve fraud, bribery and corruption cases, and ensuring that those found guilty are placed before the courts.