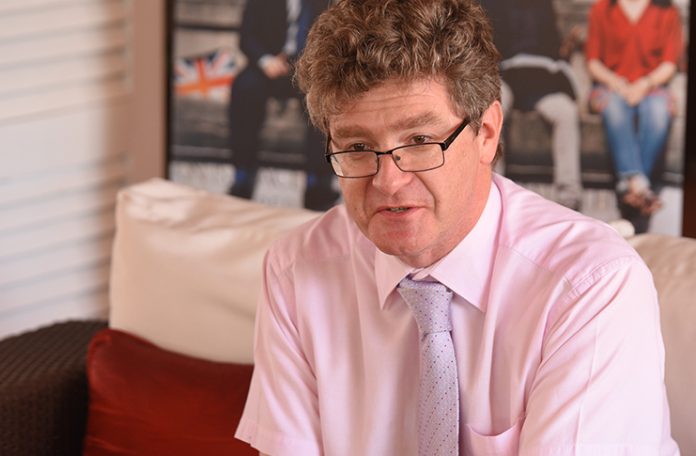 – as oil revenue debate picks up steam
REVENUES from Guyana's developing oil-and-gas sector should be used to develop the country's infrastructure, British High Commissioner Greg Quinn said, as he weighed in on the public debate on whether households in Guyana should be given liquid cash from the expected revenues.
It was Economist Dr Clive Thomas who, during a public forum, said the government should consider annual cash transfers of $1M (US$5000) to poor households, a proposal that has been met with mixed reactions even within the government.
During a press conference at his Bel Air Gardens residence on Friday when the subject came up, the high commissioner said while he has paid keen attention to the arguments, both for and against, in his opinion the expected oil-and-gas revenues should be used to develop the country's infrastructure in sectors such as housing, education and health.
"I think the number one priority has to be-and this would obviously benefit the broader population directly- is the infrastructure, is the schools, is the hospitals," he said.
"And then people would see that benefit just as quickly, I think, and more sustainably than they would do if they were given money," he told reporters.
The British envoy said that rather than doing cash transfers, the proposed US$5000 incentive could be given to entrepreneurs and potential entrepreneurs to develop and or expand their businesses.
"They can then use that money to support and build their own sort of self-sufficiency," he said, while positing that with cash transfers, the money may not be used in a meaningful manner.
SIMILAR SENTIMENTS
U.S. Ambassador Perry Holloway had earlier this month expressed similar sentiments, noting that discussions should be focused on steps that can be taken to enhance social and security services within the country.
"I think the more important conversation should be about not giving every citizen a cheque, but giving every citizen a quality education," Ambassador Holloway said. "Giving every citizen quality healthcare; a secure environment in which to live and work. And I think if you do all of those things with the revenue that petroleum generates, everyone will make plenty of money and be very prosperous," he told reporters during the recent launch of the American Chamber of Commerce (AMCHAM) Guyana chapter.
In response to the suggestion put forward by Dr Thomas, President David Granger said there is "no evidential basis" that such an idea is doable, while making it clear that he has not received a formal proposal. "I have not considered that proposal," he said. "It is outside of the recommendations of the Sovereign Wealth Fund; the Natural Resources Fund and I don't know that there is a precedent for it."
But the Working People's Alliance (WPA) party, which forms part of the A Partnership for National Unity + Alliance For Change (APNU+AFC) government, said there is need for an informed, rational and serious discussion on what is to be done with the expected oil revenues, and endorsed the proposal by its executive member, Dr. Thomas.
ALL-INCLUSIVE
"Such a discussion, " the WPA said, "should involve Guyanese in their communities and at their workplaces, and should be grounded in a desire to lift the standard of living of all, but most importantly the poor and the powerless."
On Thursday, the African Cultural and Development Association (ACDA) threw its support
behind the proposal for annual cash transfers to citizens from oil revenues, contending that its constituency, the Afro-Guyanese, represents a large portion of the poor and powerless in Guyana.
"This will certainly be one way that President Granger and his government can demonstrate that an effort is being made to reverse some of the economic disadvantages that plague our communities each day," ACDA said, adding:
"We encourage the government also to give effect to the idea of removing the income tax from personal incomes, and lowering the corporate tax rates to competitive levels within five years of the commencement of the receipt of oil revenues as a means of encouraging work and industry."
Natural Resources Minister and Leader of the Alliance For Change (AFC), Raphael Trotman, has said that the public discourse on the subject is timely, as Guyana has within its reserves more than 4 billion barrels of oil-equivalent.
"The AFC supports any initiative that spreads the wealth transparently and equally, not just for some but to ensure that every citizen in all 10 regions get an equal say in how this money is spent, and they get a share of it," Minister Trotman said, noting that he intends making such a representation to Cabinet.