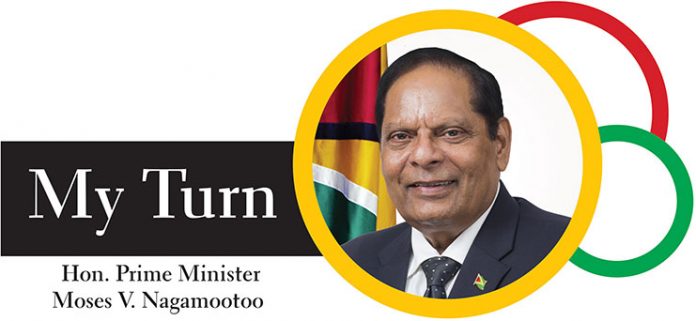 IN post-independent Guyana, every new decade, it seemed, has been marked by an episodic return of a significant American presence. With the upcoming visit by a high-level Congressional Delegation, expectations are high that something big is about to happen that would positively impact the lives of Guyanese.
The 25-member American delegation comprises nine representatives of the US Congress from several States, including the Chairman of the House Judiciary Committee, a component of military officers, and some family members. Minister of State Joseph Harmon, in making disclosures about the visit, noted that this single largest congressional delegation would be on a familiarisation tour, testifying to the strengthening of Guyana/U.S. relations.
PROSPECTS FOR FIRST OIL
It could hardly miss anyone's attention that this visit coincides with prospects of first oil by the American giant, ExxonMobil, from reserves it estimated at four billion barrels off Guyana's Atlantic economic zone. Independent of Exxon's find, a United States geological survey has estimated that the Guyanese coastal area holds recoverable oil reserves of about 13.6 billion barrels, and gas reserves of 32 trillion cubic feet.
The huge vested interests have not only attracted high-profile, albeit controversial, coverage from the New York Times but has also raised an enhanced security profile of Guyana and presented a new geopolitical and strategic reality in the western hemisphere.
The Government of the United States of America was quick to connect with this reality on the occasion of the 52nd Independence Anniversary of Guyana. Secretary of State, Mike Pompeo reinforced "strong connections" with Guyana, and committed the United States to the advancement of our prosperity by helping Guyana to develop her emerging oil sector "in partnership with U.S. business".
SUPPORT FOR SOVEREIGNTY
It didn't take long for the launch in Guyana of the American Chamber of Commerce (AMCHAM), which would rank among the biggest successes of US Ambassador Perry Halloway in bridging American-Guyanese business cooperation. Its start-up members include ExxonMobil and GT&T.
With the expected oil bonanza came renewed but overt diplomatic support for Guyana's territorial sovereignty against a spurious claim by Venezuela. The U.S. Government declared recognition for the entire "Land of Many Waters" from "the Corentyne to the Pakaraimas, from the Takutu to the Amakura…"
The U.S. State Department hosts a Guyana Page, last updated on February 9, 2018, with a Fact Sheet that outlined the shifts in political-ideological and trade relations between our countries. It stated:-
"Beginning in the late 1980s, Guyana sought to improve relations with the United States as part of a decision to shift toward political nonalignment, moving from state socialism and one-party control to a market economy and greater freedom of the press and assembly. This shift, recent free and fair democratic elections, closer security cooperation, and expanding trade and investment have helped place U.S-Guyanese relations on excellent footing."
This only English-speaking Republic on the South American continent has at home less than 800,000 inhabitants, but she has a larger Diaspora population that is scattered mostly in North America and the Caribbean. It is estimated that some 500,000 Guyanese live and work in the United States, which account for remittances in 2016 of US$264.6 million, in a year when the country's export earnings from the United States stood at US$286 million.
AMERICANS ARE COMING
With growing expectations of the country's opening up and new-found wealth, Guyanese are looking at their Motherland with fresh hope. The inauguration, from November, of flights to Guyana by American Airlines would see more arrivals from the United States from which Guyana would benefit financially.
I wanted to use "The Americans are Coming" as the caption for this article, but decided not to sensationalise the beginning of this exciting, glowing era in U.S-Guyana cooperation. Already, resource nationalism in some quarters is distorting this image as that of a blood-sucking empire descending on Guyana.
There have been previous episodic decades that could give justification for this negative nationalism, going back to the late 1950s when the then British colony became a pawn in the Cold War. She was subsequently converted into a laboratory for every conceivable ideological stratagem of American imperialism, which has since been well documented.
The role of an American company in voter registration for the 1968 elections had spawned a legacy of electoral malpractices, once described by Lord Avesbury, head of a UK Observers' Mission, as "Something to Remember". Ten years later, in 1978, Guyana saw what has been notoriously inscribed in history as "the Massacre of the Century" when just under 1,000 American citizens were murdered by the fanatical Reverend Jim Jones who lured them into a macabre mass murder/suicide ritual. The first ever American Congressman, Leo Ryan, was also murdered by assassins of the American cult leader at the infernal place, since known as "Jonestown".
By 1988, the "wind of change" was blowing in the direction of Guyana. Five American senators petitioned their government to embrace electoral democracy. Ambassador Fleming Jones and former President Jimmy Carter played key roles in promoting bipartisan cooperation ahead of electoral reforms. Not widely known is the role of then President George Bush Snr. in supporting "free, fair and credible elections", which assurance was conveyed to me at the State Department by then Assistant Secretary of State, Sally Cowal.
OPEN FOR BUSINESS
It was during that period that I met the late V.S. Naipaul who visited Guyana for his column, "In the Red Corner" which was published in the Guardian (UK), more or less painting Cheddi Jagan as a reformed "pure" Marxist, to woo acceptance of him by the Western democracies.
When the Cold War came to an end, Guyana was again opened for business from the West. By 1999, Beal Aerospace Technologies Inc. entered into an agreement with the Guyana Government to install a US$50 million rocket launch site on a 100,000 acre landscape in the Waini River area, which was closer to the Venezuelan border. That project would have seen the early involvement of Guyana in a space-economy business whereby satellites would have expanded Internet connectivity since then. But Venezuela deemed the proposed aerospace project "an unfriendly act", and pressured that it be shut down.
It was also in that year that ExxonMobil was granted an oil exploratory concession, which today has blossomed into an industry that is running full steam towards first oil. The Americans, this time around, have every justification to be back, as friends, as partners. Yes! The Americans are coming!