– Felix tells House committee
THERE is no evidence of Haitian nationals being trafficked in and through Guyana, Minister of Citizenship Winston Felix, declared on Thursday.
Felix was at the time responding to questions posed by members of the Parliamentary Sectoral Committee on Foreign Relations. Over the past few months concerns have been raised about the number of Haitians and Cubans entering Guyana through legal ports but the country's immigration department has no departure records.
According to statistics provided by the Ministry of Citizenship to the bipartisan parliamentary foreign relations committee there is an increasing number of Haitians arriving here but not departing through established ports of entry and exit. In 2017, 3,515 arrived with only 291 leaving according to departure records. This year, between January and April, 85 of 1,238 officially left Guyana. As a result there are 4377 Haitians unaccounted for in 2017 and 2018.
"Where is the trafficking? Our evidence on trafficking so far suggests it is not the Haitians who are being trafficked. We have seen in the hundreds Venezuelans and if I have to look for trafficking in Guyana I am looking at the Venezuelans," said Felix who noted that three times the number of women come from Venezuela and women are the victims of trafficking more than men.
He was at the time responding to questions posed by Opposition Peoples Progressive Party (PPP) Member of Parliament (MP), Nigel Dharamlall. Dharamlall said he finds it strange that the administration is doing nothing to prevent the illegal backtracking by Haitians. Felix told the Committee that immigration officers in 2016 had gone in search for the large numbers of Haitians who had arrived then and came up empty handed. "So how do you know they are in Cayenne?" asked the opposition MP to which Felix responded, "they are not in Guyana."
"That (Cayenne) is their destination; I know that! They come not to go to Suriname but to Cayenne. They have relatives there – it is not today that Haitians are transiting in Guyana; they have been doing that since 1982 and they have all been coming and going to Cayenne," he added noting the difference between persons moving and those being trafficked.
"Why would the government of Guyana legally allow Haitians into Guyana knowing that they would illegally leave in the thousands? Don't you find that our government is complicit?" Dharamlall asked as Felix reminded that Guyana's visa policy within the framework of the CARICOM community and the Caricom Single Market and Economy- freedom of movement, prevents Guyana or any CARICOM territory from preventing the
arrival of nationals from sister territories.
"No sir, we are a sovereign nation and our visa policy with CARICOM permits the arrival of Caribbean Nationals. We are not going to stop them, full stop. We are not going to stop them!" the Citizenship Minister declared.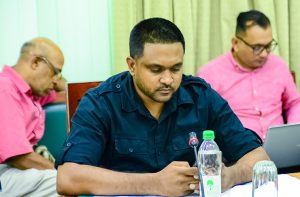 He acknowledged that in the past, Haitians were often times sent back to their home country for not meeting specific criteria but noted that policy has since been changed following a recent meeting held in Jamaica on the subject. As a result, Haitians can now stay in any CARICOM territory automatically for six months. Felix made it clear that Haitians would not be blocked from entering Guyana as they arrive here as visitors, and are given time to stay for whatever period they choose but their departure becomes the issue. "Once they leave, they leave on their own risk. Once they are found, they are dealt with accordingly," Felix said while adding that the authorities in French Guiana are aware of the said situation.
Transit point
Felix said while there is an assumption that given the numbers of Haitians arriving in Guyana legally but not departing through any of the country's official ports, the Haitians are being trafficked, Haitians are simply using Guyana as a transit point to travel to Cayenne, French Guiana to meet their relatives and friends. "We have not suspected any trafficking of Haitians in Guyana, through Guyana or whatever, at least up to this point of reporting, zero, no suspicion of any trafficking and if ever we suspect anything we are not going to wait for another nation to deal with, it will be counted in the figures that we have produced," he told the sectoral committee.
The issue of TIP Felix, a former Police Commissioner said has not been left on its own by his government as "we have displayed abhorrence to the crime of TIP and once it arises there is a multi-agency approach to this government's response to trafficking of human beings." He said TIP is taken very seriously by his administration noting that "if we want to get trafficking in Guyana let's check the hotels, the clubs, interior locations (Kaimos), one thing I will assure you, you won't find Cubans neither would you find Haitians."
The Minister reminded the Committee that Haitians have been transiting here since the 1980s in droves awaiting flights to neighbouring Suriname. However, Suriname had implemented a visa requirement for Haitians and that slowed up the passage through Suriname. "So all that they do, is come to Guyana and we are assuming that they leave backtrack for Cayenne. There are a few Haitians here–the numbers not accounted for are not in Guyana. I assure you of that. Had they been in Guyana, all of us would have known. We know where the Brazilians are, we know where the Cubans are but nobody can tell you they know where the Haitians are. Haitians are not accumulating in Guyana," Felix stressed.
He disclosed that it has been observed that a large number of Cubans are moving to "another country" which is in contact with the government. The citizenship minister who was accompanied by staff of his ministry reminded that Guyana's porous borders prevent the country's immigration officials from preventing backtrack activities. "Just as it (TIP) is a concern of the opposition, it is a concern of this government," Felix stated while pointing to statistics presented by the Guyana Police Force.
Special processing
Meanwhile, when asked by the Committee whether his ministry has received information regarding the special processing of Haitians or any other nationals through immigration at the Cheddi Jagan International Airport, Felix said no.
"No such information has been received but if there is such information available to members of the opposition on this topic, I shall be grateful if it could be provided to ensure that an investigation is launched." Felix said such actions are in breach of the Immigration Laws and persons found culpable will be dealt with condignly. "I can't see that happening; what I do know and can say is that the Haitians have felt the brunt of our enforcement through the immigration department."
He reminded that the CJIA is a restricted area both on the air side and on the land side and as such only certain categories of persons can access those restricted areas. Also present at the meeting were Committee members, Minister of Business, Dominic Gaskin, Hemraj Rajkumar and Mustapha Zulfikar and Acting Chief Immigration Officer Superintendent Wray, acting Registrar-General Louis Crawford, and a Ms. Bruce filling in for Carol Primo, who is on leave.