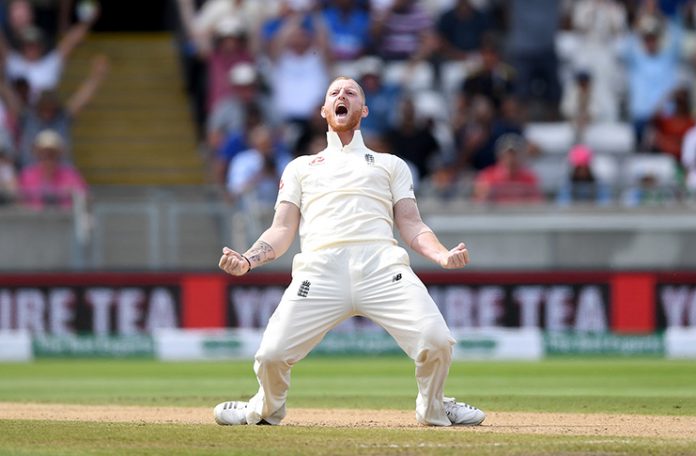 By Saikat Chatterjee
BIRMINGHAM, England (Reuters) – England's Ben Stokes grabbed three wickets yesterday including the prized scalp of India captain Virat Kohli, to give the hosts a stunning victory by 31 runs on the fourth day of the first Test match at Edgbaston.
Chasing 194 runs, India resumed their second innings at 110 for the loss of five wickets with Kohli and wicketkeeper Dinesh Karthik needing 84 for victory.
But the hosts, playing their 1 000th Test match, made an early breakthrough with strike bowler James Anderson removing Karthik with the final delivery of the first over.
That brought all-rounder Hardik Pandya to the crease and at one stage the visitors seemed to have found their way back into a gripping contest that has swung with every session over the last three days.
The duo put on 29 runs for the seventh wicket with Pandya looking the more aggressive, hitting Stuart Broad for two consecutive boundaries in one over.
 STOKES STRIKES
But the introduction of Stokes in the eleventh over of the day dragged the momentum back in England's favour.
First he trapped Kohli, who was looking dangerous after scoring a fluent half-century, with a beautiful delivery that rapped him on the pads and followed that up by dismissing bowler Mohammed Shami for a duck.
Pandya offered some resistance to the English bowlers but the task turned out to be too big for him at the end.
For the visitors, this would have been the biggest run chase against the hosts in England if successful.
He was the last man out for the visitors and gave Stokes his fourth wicket of the innings.
England captain Joe Root said the determination his team mates showed will prove vital going forward.
"Whenever you play games like this you want to end up on the right side for different reasons," he said. "It gives us a great deal of confidence going into the rest of the series."
The win gave England a 1-0 lead in the five-match series. The second Test begins at Lord's on August 9
Root's side won the one-day international series between the teams 2-1 and lost the Twenty20 competition by the same margin last month.
ENGLAND 1st innings 287
INDIA 1st innings 274
ENGLAND 2nd innings 180
INDIA.2nd innings o/n 110 for 5
Murali Vijay lbw Stuart Broad 6
Shikhar Dhawan c Jonny Bairstow b Stuart Broad 13
Lokesh Rahul c Jonny Bairstow b Ben Stokes 13
Virat Kohli lbw Ben Stokes 51
Ajinkya Rahane c Jonny Bairstow b Sam Curran 2
Ravichandran Ashwin c Jonny Bairstow b James Anderson 13
Dinesh Karthik c Dawid Malan b James Anderson 20
Hardik Pandya c Alastair Cook b Ben Stokes 31
Mohammed Shami c Jonny Bairstow b Ben Stokes 0
Ishant Sharma lbw Adil Rashid 11
Umesh Yadav not out 0
Extras: (b-1, lb-2) 2
Total: (54.2 overs) 162 all out
Fall of wickets: 1-19, 2-22, 3-46, 4-63, 5-78, 6-112, 7-141, 8-141, 9-154.
Bowling: James Anderson 16-2-50-2, Stuart Broad 14-2-43-2, Ben Stokes 14.2-2-40-4, Sam Curran 6-0-18-1, Adil Rashid 4-1-9-1.