-advises appointments committee to consult finance minister, GRA boss
MEMBERS of the National Assembly have voted against the adoption of a Motion seeking to address matters relating to the cylinder capacity (c.c) for duty-free concession to be granted to the Accountant and Attorney-at-Law of the Financial Intelligence Unit (FIU).
The Motion was moved by Minster of Social Cohesion and Chairman of the Committee on Appointments, Dr. George Norton during a sitting of the National Assembly on Monday.
Opposition Members of Parliament (MPs) quickly shot down the Motion, noting that only the Minister of Finance and Commissioner-General of the Guyana Revenue Authority (GRA) have the authority to deal with the issue.
Dr. Norton attempted to move a Motion in keeping with the Anti-Money Laundering and Countering the Financing of Terrorism Act which states that the FIU shall have an Attorney-at-Law and Accountant who are appointed by the Committee on Appointments from a short-list provided, based on applicants in response to public advertisement.
According to Dr Norton, the Committee, after deliberation, reached a consensus by majority and recommended Mr. Surendra Lall Boodhoo and Attorney-at-Law Yonette Romao Scarville as being suitable to be appointed as the Accountant and Attorney-at-Law respectively.
He said the Committee also deliberated at its thirtieth meeting held on March 28, 2018, and agreed to offer both appointees duty-free concessions for vehicles having a cylinder capacity of 2000.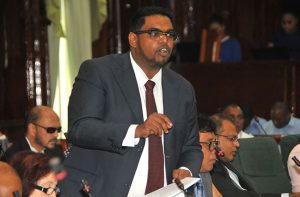 In response to the Motion, Opposition MP, Irfaan Ali argued that the approach was wrong and that issues pertaining to the employees should have been addressed in the law.
"The Motion wants to bring a benefit to two employees; we have to amend the law and make it part of the benefit in the law because the Committee can't just delegate the task to the National Assembly," Ali said, adding:
"Only the GRA commissioner-general and finance minister have the right to exercise this power of authority."
He as such advised the minister to make a recommendation to the Ministry of Finance for the provision, since the request was "wrongfully placed."
Opposition MP, Juan Edghill also agreed with his colleague parliamentarian that the request is outside the scope of the National Assembly.
Dr. Norton, nonetheless, requested that the Motion be adopted by the House, but the ratio was 28 members against, and 26 for.
Minister of Business Dominic Gaskin and Minister of Public Security Khemraj Ramjattan, both from the government side of the House, abstained from voting while other members were absent at the time.