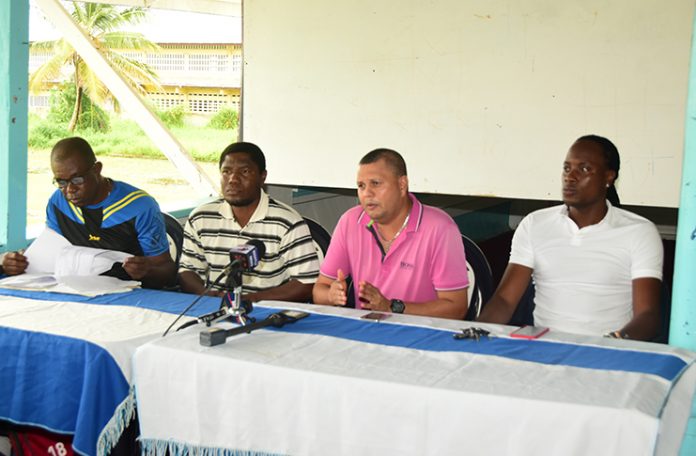 NATIONAL cricketer Steven Jacobs feels the return of the Malteenoes Cricket Academy is a timely one, since the fundamentals of the game should be inculcated at the grassroots level.
Jacobs's comments came yesterday at a press conference, where the organisers of the Academy briefed the media on the two-week programme.
"The Academy is very important, since we need to start from the grassroots level. It is important to learn the fundamentals of the game early," Jacobs said.
The former West Indies Under-19 captain also feels the further revival of the game locally hinges on how much emphasis is placed on development at the grassroots level.
"Years back cricket was so vibrant, because we had those programmes, where youngsters learnt the fundamentals of the game at an early age, so we at Malteenoes are looking to bring back those days," the 29-year-old opined.
This year's Academy is scheduled from July 23 to August 3, and according to president Winston Semple, MSC's principal intention is to add to the National grid at least 150 young, proud, confident individuals on an annual basis.
The Academy will involve boys and girls aged 6-13 and 14-18.  It will include classroom and field work which will provide training to become cricketers, umpires, scorers, journalists and broadcasters.
Meanwhile, MSC's Public Relations Officer Sean Devers, in acknowledging the importance of the Academy, pointed out that children from less privileged backgrounds will also get the opportunity to showcase their talents, since the organisers have catered for 18 less fortunate children.
The Academy produced Test players Ramnaresh Sarwan, Ryan Ramdass and Narsingh Deonarine, along with former USA captain Steve Massiah who played two ODIs for the USA while Azeemul Haniff and Ricardo Mohamed played First-Class cricket.
Karran Ganesh, Sauid Drepaul, Ravi Sarwan, Bachan Balram, Colin Murray, Karran Ganesh and Vishal Arjune all played National Youth Cricket.
After a break the Academy was reintroduced in 2016 on a much smaller scale but was again interrupted last year due to the unavailability of coaches who were occupied with CPL duties.
Registration forms can be had from the Malteenoes Club. Call 225-6509 for more information.
The Malteenoes Cricket Academy was launched in July 1993 in recognition of the Club's Motto: 'Our Youth, Our Future'.