…suspicious plane crew, passengers tell police
THE crew and passengers of a suspicious chartered aircraft which landed at the Cheddi Jagan International Airport on Monday have claimed that they are here to explore opportunities in the oil-and- gas sector.
Crime Chief Paul Williams told the Guyana Chronicle that during initial investigations of the pilots and passengers, the men indicated that they came to Guyana to explore avenues in Guyana's emerging oil-and-gas industry. The private chartered plane reportedly landed at the country's premier airport around 15:20hrs Monday, and had listed as its ground-handling agent, Roraima Airways.
In a press statement on Tuesday, the police said that the craft had several irregularities which prompted the relevant agencies to get involved; the crew was detained and the plane searched. Yesterday, Williams told this publication that the craft would be sniffed for drugs and explosives. He further stated that up to late yesterday, the pilot, during questioning, denied that the "data plate" from the plane was missing.
One of the pilots reportedly told the detectives who were questioning him that the data plate is still affixed on the craft, but on the inside on one of the doors and not where it was originally expected to be found.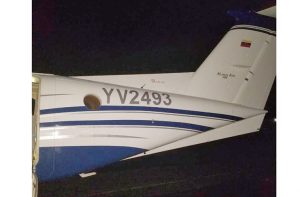 Late yesterday, the police and members of various agencies, including the Civil Aviation Authority, and the Customs Anti-Nacotics Unit (CANU), were seen accompanying the pilots to identify where on the plane the data plate was actually located. This publication could not confirm whether the data plate was indeed found where the pilots said it would be. The police, in their statement on Tuesday, said that the pilots were invited here by businessman Mr. Michael Brassington, who was at the airport to receive them.
The Guyana Chronicle reported on Wednesday that several persons were in police custody helping with investigations into the landing here on Monday at around 15:20hrs of the aircraft, a Beechcraft 200 model, and that it was reportedly linked to a local businessman who runs an airline service.
According to reports, the flight originated in Barcelona, in northern Venezuela, and on Tuesday morning four passengers of the aircraft presented themselves at CID Headquarters of their own accord.
They were followed shortly thereafter by arrival at the CID of the two pilots, accompanied by CANU ranks. According to the police, all six men, two of whom are lawyers, are Venezuelans.