– in bid to keep them on the straight, narrow
THE Ministry of Health on Tuesday began a four-day workshop on drug prevention and life-skills education in a bid to help the youths of key Region 10 communities overcome their dependency on drugs.
The communities at reference are Old England, Three Friends and Coomacka, all of which were formerly engaged in bauxite mining.
The workshop, which is being hosted by the ministry's Drug Awareness Reduction Services Unit, saw over 30 participants from the three neighbouring communities in attendance.
The programme is being facilitated by Health Improvement Adviser, Mr Wayne Hunt, and Health Education Officer, Ms Petal Gordon.
According to Hunt, the purpose of the workshop is to sensitise residents of the outlying neighbouring communities, primarily the young people, on the harmful effects of drug use, while at the same time providing them with life skills to make informed decisions in future.
The reason the ministry targetted these particular communities, Hunt said, is because of their isolation from the mainstream communities, and the lack of social and educational programmes to keep the youths meaningfully occupied, so they wouldn't gravitate to such unconstructive activities as drug use.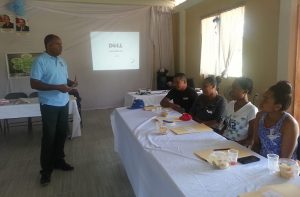 Coomacka is one of the known communities in Linden where marijuana is widely grown, and where many fields have been discovered and destroyed by law enforcement agencies.
Said Hunt: "Certain environments can have risk factors which could predispose a person towards using drugs; and in communities like these, it could be the isolation from mainstream."
The workshop targets delinquent youths as well as community leaders, so as to equip the former with the necessary skills to make informed decisions on drug use.
"The majority of them are young people, and their social environment will have an impact on them," Hunt said, adding:
"So we're giving them the skills so that they can resist peer pressure, and for them to have an influence on their peers rather than their peers having a negative influence on them.
"It is one to stimulate the awareness; the knowledge, but giving them skills to help them now to make informed decisions and choices, so they can become productive adults."
Gina Fredericks, a participant, said that previous workshops hosted by the ministry and targetting social issues have had much success in her community, Old England, and she would play a pivotal role in raising the awareness by sharing what she would have learnt with especially teens.
"I found that these workshops have been benefitting me, because whatever we are taught at these workshops, we not only keep to ourselves," Fredericks said.
"When we go back to our community, we share it with others. And since we are coming to this workshop in my community, we have less teenage pregnancy, less drug use; it helps us a lot, because we carry the awareness in our community," she added.
Federicks along with the other participants are confident that this workshop will have the same positive impact on them all.