…cellphones of deceased recovered, one was already sold
DETECTIVES in 'A' Division have been able to secure a major breakthrough in the murder of 61-year-old Deonarine Liliah and his 29-year-old son, Gopaul Liliah.
A post-mortem performed on the remains of the two on Wednesday found that they died as a result of multiple incise wounds caused by a sharp object. On Tuesday after the murder, 'A' Division Commander Leslie James had indicated that the CCTV footage from the premises proved that a young man had entered the premises from the western fence.
Using that footage, the police carried out their investigation. They first tracked the mobile phones of the deceased father and son. One of the phones which was on, allowed the police to have their break- through. The suspect, who it is suspected entered the home of the men and committed the robbery and murder, sold the mobile phone to someone.
However, when that person was picked up by the police, that individual led the detectives to the young man from whom the phone was purchased. It turned out that the young man who committed the robbery and who is now being treated as the main suspect lives just a street away from where the robbery and murder took place at the Liliahs' home.
Added to that, police detectives did confirm that the very suspect was in the past arrested and charged for robbery. Up to late last night the young man was said to be cooperating with the police. It is unclear whether he has provided a confession statement.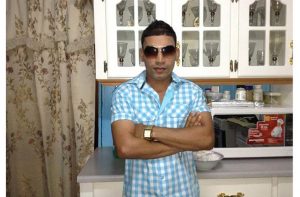 Deonarine Liliah, who was also a pandit, processed spices in the lower flat of their home. They were reportedly last seen on Saturday by persons in the area. However, a foul smell began emanating from the home on Tuesday, which prompted persons in the community to telephone the police. They also made contact with relatives from overseas and told them of the development and they made contact with the relatives of the dead duo here in Guyana. The father and son lived alone; the father was found dead in his bedroom, while his son was found dead in the living room. The bodies were said to be in the house since about late Saturday night and due to the fact that the house was locked up, the bodies decomposed rapidly. The investigation into the matter is ongoing.