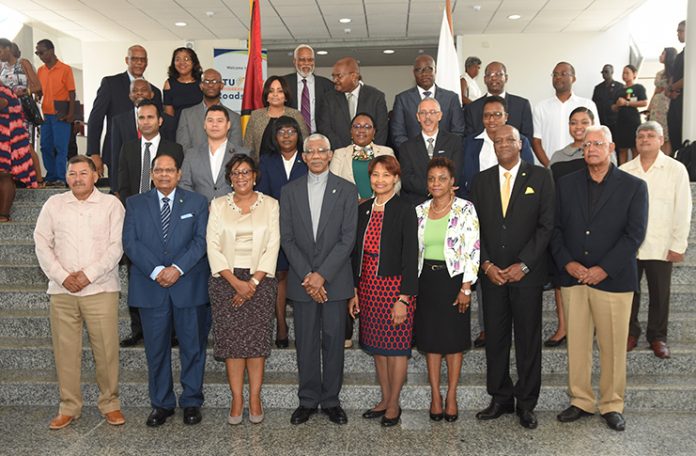 …President says Guyana on cusp of ICT transformation
PRESIDENT David Granger says that despite Guyana's unique geographical challenges, government will not relinquish efforts to ensuring that every community receives equal access to Information and Communication Technology (ICT) opportunities.
His comments were made at the opening ceremony of the Caribbean ICT Roadshow which kicked off for the first time in Guyana, on Monday at the Arthur Chung Conference Centre (ACCC). The roadshow is being hosted from July 9-14 under the theme 'Harnessing the Power of Innovation: the Engine for ICT-enabled Development' and comes about through collaboration between the Caribbean Telecommunications Union (CTU) and Public Telecommunications Ministry.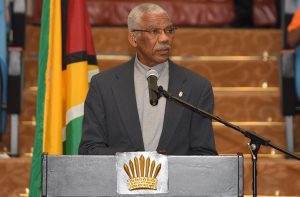 In his address, President Granger said that Guyana, the largest Caribbean state with the second lowest population density, faces many geographical challenges when it comes to ICT. However, he told the gathering that every community, regardless of its location, can become connected and receive equal access to information and public services.
"Guyana, suffering from inequality along the lines of geography and infrastructural development, has peculiar challenges for ICT development. Many hinterland communities are isolated [due] to lack of adequate infrastructure. Residents of these communities have to travel long distances to access public services," he said, adding: "ICT development, therefore, must be responsive to the spatial dimension of geographical development. Every village must have a centre where public services such as citizenship, public education, public health, public security and postal services can be accessed. ICT must bring these services to the people in the islands, in the hinterland and riverine and lower communities."
The President continued by stating that many communities have become "silent zones", cut off from communication with the rest of the country, but the establishment of the Regional Public Broadcasting Service (RPBS) is assisting in this regard.
He noted, too, that since taking up office, the Government has implemented over 100 ICT hubs in the coastland and hinterland regions, while providing remote access learning to over 175 primary schools and over 105 secondary and tertiary education institutions. In addition, to increase its competitiveness in ICT, the education system is being reconfigured to place greater emphasis on Science, Technology, Engineering, Arts and Math (STEAM) education. As such, he congratulated the CTU and the Ministry of Public Telecommunication for hosting the ICT Roadshow which he says will help to set the region firmly on the digital highway towards increased connectivity for the region.
The President said Guyana, like other Caribbean States, is moving towards becoming a digital state, which will reduce the need for citizens to travel outside of their regions to examine their academic and medical records, to acquire passports, access legal services, record births and deaths, to receive social security benefits, register businesses, renew drivers' licences, submit income-tax returns and to embark on trade and investment enterprises.
"The digital state will revolutionise the delivery of education, including distance education, by introducing technology-based teaching into the public education system thereby improving educational attainment…The digital state will trigger economic transformation. It will spawn knowledge-based industries while diversifying the economy away from primary production, moving manufacturing up the value chain and building greater economic resilience. It is about applying ICT to add value to primary production and to ensure greater access to external and internal markets," President Granger said.
Think out the box
Meanwhile, Public Telecommunication Minister Cathy Hughes challenged the attendees to think "out of the box" by putting aside traditional ways and transforming Guyana through ICT.
She reminded that the Ministry is in the process of developing a policy framework for the full utilisation of ICTs in Guyana, which will facilitate sustained economic growth, transparency and equality to name a few. However, to achieve this, she called on all stakeholders, including the public and private sector, civil society and academia, to play a role in awareness, knowledge sharing and discussions.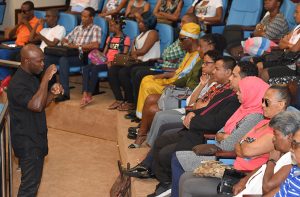 She also recognised the large turnout of Persons with Disabilities (PWDs) and noted that they, too, stand to benefit significantly from the event. "I hope to see a private sector that begins to embrace, more, the use of technological systems. A public and private sector that thinks outside the box and strategically allocates a few of your jobs to persons that are visually or hearing impaired; that looks to hire our young Guyanese ICT entrepreneurs who are immensely talented and qualified…all of this must be the measure of our worth, of your worth and success as a company or an agency," Hughes said.
During the ceremony, CTU Secretary General Bernadette Lewis stressed the need for all sectors to be involved in the evolution of technology which she said, if neglected, could result in their eventual irrelevance.
"Citizens who do not embrace the technology will find it increasingly difficult to participate in everyday activities in their countries. Businesses that do not respond appropriately to the changing times, they become irrelevant and fade into oblivion. Governments that do not respond appropriately, they don't go out of business, but instead, their ability to serve their citizens effectively diminishes over time, as they slowly morph into a state of gridlock," Lewis cautioned.
At the same time, she reminded that even as this technological evolution takes place, persons ought to simultaneously safeguard themselves from becoming disconnected and losing their ability to communicate face to face.
Food and Agriculture Organisation (FAO) Sub-Regional Coordinator, Lystra Fletcher-Paul, addressed the gathering on the importance of ICT in agriculture to not only foster economic development but youth involvement.
"The lack of succession planning and an ageing population involved in the agriculture sector is a major issue which has to be addressed to ensure food and nutrition security in the future of the Caribbean. The use of ICT in agriculture provides an opportunity for engagement with youth in the sector…e-agriculture opens a whole new world for the use of innovative technologies to revitalise the sector and attract young people," she said.
Several other Ministers of Government attended the opening ceremony including: Prime Minister Moses Nagamootoo; Minister of State Joseph Harmon; Minister of Business Dominic Gaskin; Minister of Indigenous Peoples' Affairs Sydney Allicock ;Minister of Finance Winston Jordon and Minister of Agriculture Noel Holder.
Also present were Junior Minister of Finance Jaipaul Sharma; Junior Minister of Public Health Karen Cummings; Junior Minister of Natural Resources Simona Broomes and Junior Minister of Public Infrastructure Annette Ferguson.
The week's event will feature over 20 presenters from the CTU and other key organisations who will speak on the topics of e-agriculture, 21st Century Government, ICT for PWDs, digital financial services, cyber security and future casting.
Guyana is the first Caribbean country to host the updated version of the roadshow which previously visited 18 other Caribbean countries, raising awareness on the effectiveness of ICT to citizens and other stakeholders.