EYEWITNESSES have recovered a mirror which they noted broke off from a speeding car which collided with a man along the railway line embankment on the East Coast of Demerara on Saturday night.
An eyewitness related that about 21:15hrs on Saturday, a blue Nissan Bluebird motor car was speeding along the roadway, heading east and while in the vicinity of Cheers Bar, the driver hit a pedestrian who was walking in the same direction.  The driver drove away from the scene.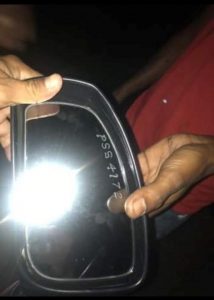 A broken mirror with the registration PSS 4172 engraved on it was found close to where the accident occurred. Eyewitnesses reported that the car maybe one which is operated by a taxi driver at Beterverwagting and La Bonne Intention (LBI) on the East Coast of Demerara.
The victim's name was provided as Nicholas Bisram, 19, of 49 Success, East Coast Demerara who sustained a fractured left leg with other injuries to his body.