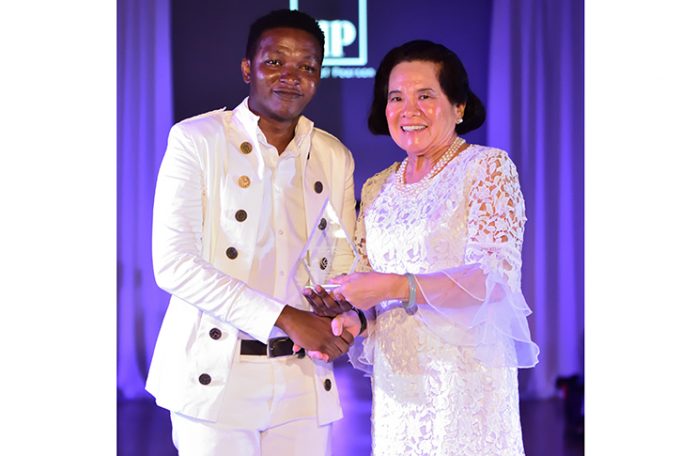 Guyanese designers awarded for contribution to Caribbean fashion industry
FOR local designer, Quinton Pearson, apart from making his line House of Pearson a household name, one of his biggest dreams was meeting the First Lady of Guyana, H.E. Sandra Granger. On June 30, after showing his newest line 'House of Pearson Season Four' before a large audience in Silver Spring, Maryland, USA, at the 2018 Caribbean Style and Culture Awards and Fashion Showcase, Quinton's dream came true when he was presented with the Award of Excellence- Fashion Innovation by the First Lady herself.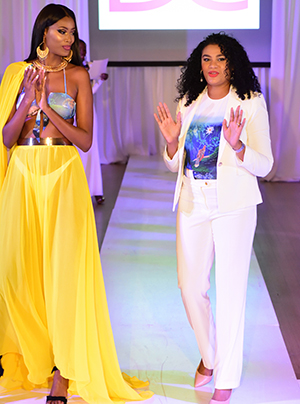 Quinton was one of two local designers to be given that honour that night and, together, they joined a long list of Guyanese designers and models, who have been recognised for their contribution to the Caribbean fashion industry via the Caribbean Style and Culture Awards.
The First Lady, who made a special trip from Guyana just to attend the event, during her short remarks stated that it is very important to recognise the work that Guyanese and other Caribbean designers are doing to place the Caribbean on the map. She added that it was an honour to be at the event and that she, too, pledges her support to local designers- a fact that was proven in her own attire, having been adorned in a Pat Coates creation that evening.
In an interview with the Pepperpot Magazine, Quinton said that he was excited when he got the call that he was nominated to receive an award. "Immediately it inspired me to not only push harder and improve on my brand but also to step out of my comfort zone and aim higher for the future of House of Pearson and my team of hard working mates," he said.
He added that he sees such a platform as a brilliant initiative that encourages designers to keep going despite the challenges they may face in the seemingly slow industry. "Personally this experience has thought me a lot about myself and where my brand is at on a scale of one to 10 and that's a statistic that every designer should be aware of, in order to make effective changes and improvements if the main objective is to expand.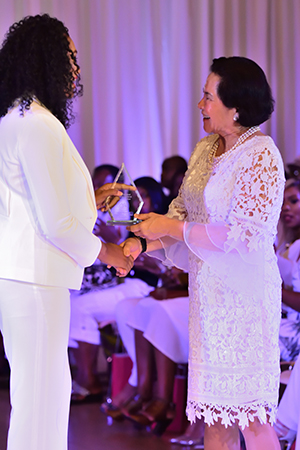 To all Caribbean Designers, I would definitely say that this is a wonderful platform to express yourself in the best way possible, learn from talented peers and professionals about how you can create a niche business in our fast evolving world of business and art," he said.
Quinton's Season Four collection combined signature designs from previous collections which were developed and modified along with new designs and trends to create a fresh new look for the Summer, but more than that, the designer stated that the collection signifies his determination and hard work. "As a young entrepreneur in Guyana, I have developed an attitude to respect my time and creative mind. Being a better me than I was the day before is my aim and focus in life. What truly matters is how we love and appreciate ourselves," he said. "This platform was perfect for my 2018 collection.
Because of the diverse audience, I had the opportunity to share my creativeness and passions with. This platform helped me to connect with so many different people from many corners of the earth. I was able to really capture the attention of everyone present because of the message my collection carried and it was well received."
In the coming months, Quinton will extend his collection which will be made available for sale to the public, but more than that, the young designer announced that he aims on launching House of Pearson's first menswear collection in September of this year.

DUO COLLECTION
Nadia Thomas Winter and Natalya Thomas of Duo Collection were also awarded the Award of Excellence-Fashion Innovation. Nadia was present at the event to receive their award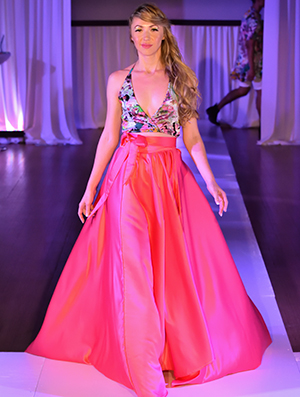 and to also showcase their new collection called 'Fusion'. "The collection is a resort wear collection. We were able to fuse tropical leaves as well as national landmarks in Guyana and a pop of bright colours into this collection. We wanted to promote our country's heritage and I think this platform was the best to showcase where it would be seen internationally," Nadia told the Pepperpot Magazine.
Nadia, who is based in the British Virgin Islands, said that she felt honoured to receive the award and that the initiative to award Caribbean designers, models and other fashion artists is "truly amazing". "The Caribbean has many many talents and this will definitely boost this industry. I would definitely encourage designers to apply … this show is of class and it has been proven throughout the years. Designers are also able to showcase internationally bringing attention to the region," she said.
Going forward, Duo Collection is hoping to grow their line through increased sales and marketing throughout the region and internationally, but she stated that some challenges still remain, such as a lack of support for local designers as well as lack of shipping options to other countries. "My intention of overcoming these challenges is to bring back pride to our heritage by showcasing my designs with pride, class and a high standard which will be able to compete internationally. And seek ways to get products to clients throughout the region," she said.
This is the ninth year that the Caribbean Style and Culture and Fashion Showcase is being held. The event is held in honour of Caribbean American Heritage Month and seeks to honour the work of designers and models from across the Caribbean. Past recipients of awards from Guyana include Patricia Coates, Michelle Cole, Carol Frasier, Keisha Edwards, Sidney Francois, Andrew Harris, Olympia Small-Sonaram, Frank James, Roger Gary, Natasha Harper, Niketa Barker and many others.
This year's event saw a showcase of designers from Haiti, Guadeloupe, Jamaica, St Vincent & the Grenadines, Trinidad & Tobago and St Lucia. Awardees included models and Makeup Artists from the Caribbean as well.
As the Caribbean Style & Culture Awards & Fashion Showcase heads into its tenth year, the event will seek to expand its reach to include work from Caribbean photographers as well. Submissions for the 2019 show will begin in August of this year. Persons interested in becoming part of the journey can follow www.facebook.com/caribbeanstyleandcultureawards/ for more information.